Company Name: Schaudt Mikrosa GmbH.
Location: Leipzig/Stuttgart (Germany)
Eclipse Product Installed: Filtramag FM2.5
Industry: CNC Machine Manufacture
Process Type: Grinding Equipment
Our Client
Schaudt Mikrosa GmbH is a leading OEM of precision grinding machines for the automotive industry supplying some of the leading names in vehicle component manufacture. Schaudt manufacture 400 new machines each year. This application is for Camshaft grinding machines where finish accuracy is paramount. The machines are "factory fitted" with a Knoll paper band filtration unit. Coolant flows from the grinding contact area into an intermediate tank which is lined with a 20 micron paper barrier. The filtered fluid then flows into a clean holding tank before being pumped back to the contact area.
The Challenge
Schaudt were receiving regular complaints that grinding wheels were being damaged or even burning. Also the accuracy and quality of finish was not able to meet the required standard. On further investigation it was found that ferrous particles were building up around the grinding wheel and the surface of the Camshaft, this was having an abrasive effect on the surface finish and damaging the grinding wheels. The ferrous particulate consisted of hard steel (with a surface hardness of 55-60 HRC) from the camshaft and also carbide particles from the grinding wheels. Because the paper filter could only remove particles down to 20 micron anything smaller continued to circulate.
The Solution
Schaudt trialled Filtramag 2.5 in conjunction with the Knoll filters. Filtramag was fitted in the flow of dirty fluid from the machine ahead of the paper band filtration unit. Filtramag ensured that ferrous particles right down to sub-micron size were removed from the process. This ensured that the grinding area was kept free from contamination thus preventing damage to the grinding wheel and the machined part surface. Schaudt have estimated that Filtramag has reduced maintenance and downtime costs by at least 50%. It has also increased the life of grinding wheels by 25-30% resulting in a 10-15% fall in product rejections.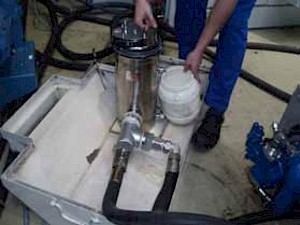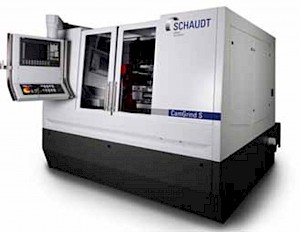 Daniel Mavro, Head of Technology & Process Engineering at Schaudt Mikrosa stated " we are delighted with the trial results, the initial investment in Filtramag is outweighed several times by the process efficiencies it presents. We will be reviewing the use of Filtramag on wider machining applications".
Find out more about Magnetic Filtration or contact us for more details.
"We were delighted with the service provided by Eclipse Magnetics; from the initial site survey through to delivery."
"I cannot begin to tell you how much it has helped our operation, the magnetic filtration unit has been a real problem solver it has surpassed all our expectations. Its cured a 30 year plague!"
"This technology is economical, reliable and efficient. I believe that magnetic filtration technology is the future."
"Magnetic filtration has dramatically cleaned up our fluids and improved the surface finish we can offer. It extracts around 50Kg per day of ferrous waste."
"We chose Eclipse Magnetics to supply our housed grid because they are a respected and well-established brand. They offered us a very competitive price, and the process of ordering and installation was straightforward and reliable."
"We are delighted with the Automag installation; it's solved all the problems we were having previously with downtime and maintenance costs. The filter means that we are able to use recycled water, which is saving us £1000 per week!"
"Here at Qualflow, we base our business on a philosophy of make the product simple to use, reliable and cost-effective. Eclipse Magnetics' neodymium magnets offer the strongest magnetic performance, and are nickel plated, making them a cost effective.."
"The Ultralift Plus magnetic lifter from Eclipse Magnetics is the perfect solution for the pick-up and transportation of the ultrasonic calibration blocks in our facility"
"The result is an aesthetically pleasing system, which is effective in trapping metal contaminants and is easy to clean..."