Company Name: Hanningfield
Location: Essex, UK
Eclipse Product Installed: Double Row Housed Grid
Industry: Food
Process Type: Powder Sifting
Application Background
Essex-based company Hanningfield are an independent family-owned business that designs and manufactures powder handling and processing equipment, primarily for the pharmaceutical industry, but also for connected industries such as food, chemical and nuclear. Working for their client within the food industry, safety was key with for the end customer who sought an extra level of security to eliminate the risk of foreign body contamination.
The Challenge
Food contamination remains a high-risk problem in the food manufacturing process, with the detection of foreign bodies rendering food unfit for human consumption. Between the months of January and August 2020 alone, there were 6 metal contamination cases reported by the Food Standards Agency.
Whilst measures for foreign body removal can already be in place and risk of contamination considered low and unlikely, ferrous pollutants can still enter production lines in several ways, including with raw materials; staples or nails from packing; rust, wear and damaged parts.
The Solution
Hanningfield installed the Eclipse Magnetics' double-row housed grid to their Kwik-Sift centrifugal sifter to capture any fine particles of metal that may have been trapped within the agglomerated powders. Sifting 100's of kilograms per hour, it is imperative to the client that all potential risk is removed as the application is used to process food materials, including flour, egg powder and cocoa, along with any other products that require de-lumping.
The Kwik-Sift acts as a first line of defence, capturing common foreign bodies such as plastic, elastic bands and hair. The magnet was selected as a final security measure to capture the smaller particles of metal that the Kwik-Sift basket was unable to capture. A Kwik-Sift and integrated magnet are used to guarantee the entire process, and usually employed before the material is processed so as to reduce the chance of a potentially scrapped batch.
The housed grid high-intensity magnetic separator has long been a top choice for foreign body removal throughout many industries, offering unsurpassed results for the removal of ultra-fine iron and para-magnetic contamination from dry, free-flowing substances such as flour, grains and sugar.
The grid magnet is fed by gravity, housed in quality stainless steel and is capable of removing micron-sized contaminants, protecting against even the most arduous of process environments.
The grid magnets can be removed and cleaned within seconds by taking the magnetic cores from their housings and letting the contaminants simply fall away. The cleaning process takes less than 30 seconds to complete, ensuring machine downtime is kept to an absolute minimum.
Having used products from their range previously, Hanningfield once again chose Eclipse due to their common UK base, high-quality products, experience within the food and pharmaceutical industries as well as their ability to produce ATEX certified applications.
The results of the installation offer proven effectiveness with positive feedback from Hanningfield's client that the housed grid worked reliably and efficiently, without holding up the product or impeding on throughput.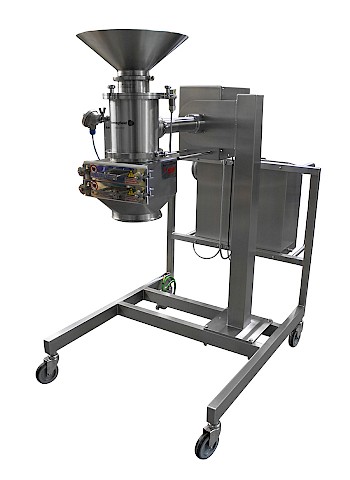 Comment
Alex Ellis, Sales Manager at Hanningfield, said, "The Eclipse Magnetics housed grid was preferred due to its hygienic design, ease of integration with our equipment, our client's need for ATEX compliance, and the ease of removal of any captured metal, where the internal magnetic grid bars can be removed; allowing the metal to simply fall off the product contact stainless steel bars."
Find out more about Separation or contact us for more information.