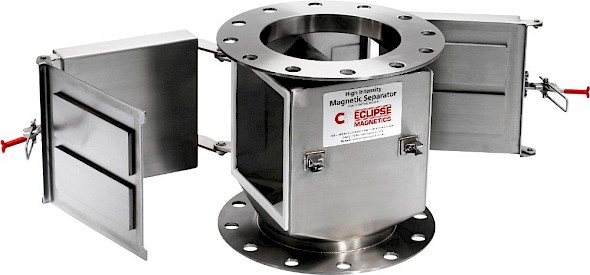 Hover to zoom
Chute Magnetic Separator
Easy clean, high-intensity magnetic separator
Ideal for use in vertical or angled chute sections
Suitable for use with dry powders and granules
Ideal for primary screening of raw materials
Easy release of contamination when cleaning
ATEX certified versions available
Overview - Chute Magnetic Separator
High intensity magnetic separator for gravity feed processes
Our chute magnets are designed to operate in arduous conditions and where contamination size is relatively large
The unit has two-hinged, high-intensity magnetic packs, which are secured to a housing by an adjustable hinge arrangement and tri-cone locking nut. These tri-cone nuts ensure even pressure is generated around the food grade silicon seal.
The chute magnet can be incorporated into any form of vertical or angled pipe or chute section. A common installation location is at raw material inlet points for products such as grain, rice, corn, bran and animal feed etc. A central diverter is mounted on the inlet which directs processed product onto the magnetic face, ensuring a high contamination removal rate.
Applications
Suitable for dry and semi-dry powders, granulates and lumps etc.
Can be installed at inlet/outlet points
Benefits
Easy to clean
High collection capacity
Reduces 'spark' risk
Meets audit requirements
Rare Earth deep magnetic field
Removes 'tramp' sized contaminants
Performance
Magnetic Performance: 3,500 Gauss
Performance Reading: On magnetic pack face
Magnet Grade: N35 – Inspected and confirmed via hysteresigraph prior to use
Temperature: -4°F / +194°C (-20°C / +90°C)
Construction
Magnetic Material: Rare Earth Neodymium Iron Boron - (NdFeB)
Housing: 304 grade stainless steel
Other Parts: 304 grade stainless steel
Toggle Clamps: Stainless Steel
Sealing: Self adhered white foam (FDA)
Surface Finish: Bead Blasted
For fine particle separation see Housed Easy Clean Grids
"We were delighted with the service provided by Eclipse Magnetics; from the initial site survey through to delivery."
"I cannot begin to tell you how much it has helped our operation, the magnetic filtration unit has been a real problem solver it has surpassed all our expectations. Its cured a 30 year plague!"
"This technology is economical, reliable and efficient. I believe that magnetic filtration technology is the future."
"Magnetic filtration has dramatically cleaned up our fluids and improved the surface finish we can offer. It extracts around 50Kg per day of ferrous waste."
"We chose Eclipse Magnetics to supply our housed grid because they are a respected and well-established brand. They offered us a very competitive price, and the process of ordering and installation was straightforward and reliable."
"We are delighted with the Automag installation; it's solved all the problems we were having previously with downtime and maintenance costs. The filter means that we are able to use recycled water, which is saving us £1000 per week!"
"Here at Qualflow, we base our business on a philosophy of make the product simple to use, reliable and cost-effective. Eclipse Magnetics' neodymium magnets offer the strongest magnetic performance, and are nickel plated, making them a cost effective.."
"The Ultralift Plus magnetic lifter from Eclipse Magnetics is the perfect solution for the pick-up and transportation of the ultrasonic calibration blocks in our facility"
"The result is an aesthetically pleasing system, which is effective in trapping metal contaminants and is easy to clean..."