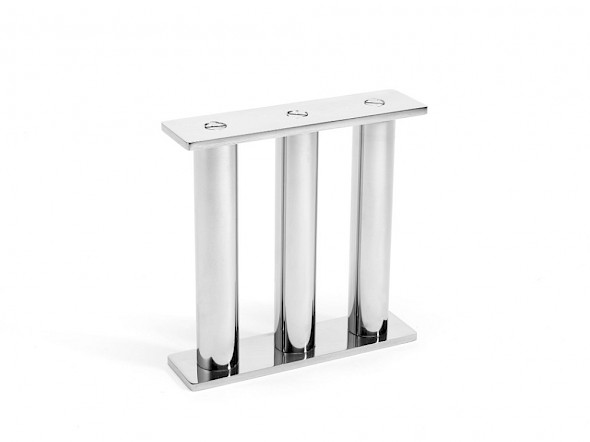 Hover to zoom
Magnetic Separation Grids
Versatile, high-intensity magnetic separator grids
Ideal for use with most powder or granulate substances
Ideal for most gravity/free fall lines
Extracts hazardous fine ferrous particles
Circular or Square configurations available
A simple addition to bolster HACCP systems
Overview - Magnetic Separation Grids
Simple, cost effective protection against ferrous contamination
Our versatile and high-performing magnetic separator grids are extremely efficient at removing contamination from dry free-flowing powders and granulates. Contamination such as rust, stainless steel scrapings and wear from machinery are often too small to be detected by a metal detector. Our magnetic separator grids feature powerful magnetic rods, attracting ferrous contamination down to sub-micron size.
The magnet grids are quick and easy to install, and require no power and no maintenance.
These units can be manufactured to any size and with any number of rods to meet most application requirements. For non-standard sizes, you can fill out the customized magnetic separator application form.
Applications
Suitable to dry powders and granulates
Can be used in existing vertical or angled process lines
Overview
As the product flows through the grid, any contamination is immediately attracted to the grid's powerful magnetic rods. The contamination is pushed to the undersides of the magnetic rods, where it is securely held. The grid can then be removed from its process position and the contamination pushed down each rod, releasing the attracted contamination.
Benefits
Simple to install
Reduces 'spark' risk
Removes micron sized contaminants
Meets audit requirements
Construction
Magnetic Material: Rare Earth Neodymium Iron Boron - (NdFeB)
Tubing: 316-grade stainless steel
Other Parts: 316-grade stainless steel
Surface Finish: Polished to 0.6μm
Performance
Magnetic Performance: 7000, 9000, 11000 and 12000 Gauss
Performance Reading: On tube surface
Magnet Grade: N35 & N45 - Inspected and confirmed via hysteresigraph prior to use
Temperature: -4°F / +194°F (-20°C / +90°C)
For easy clean version see Housed Grid