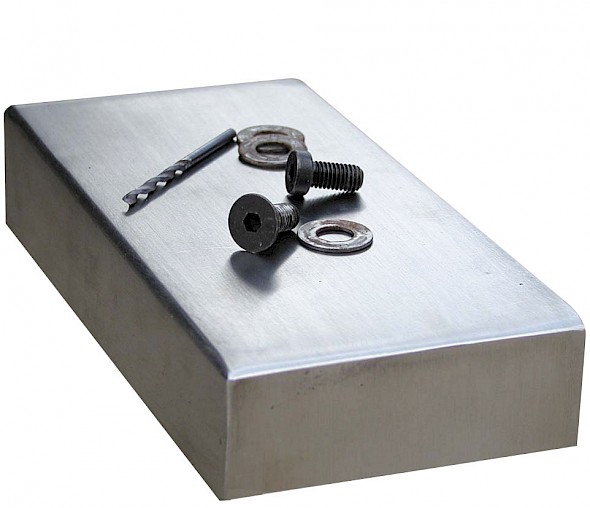 Hover to zoom
Magnetic Strip Separator
High-intensity magnetic fields extracts tramp metal contamination
For installation above transfer conveyors or vibratory feeders
Permanent magnet no power source required
Cost-effective option for removing tramp primary contamination e.g. nuts, bolts, screws
Various size options available
Overview - Magnetic Strip Separator
High-intensity magnetic separator extracts tramp metal objects
Rare Earth strip magnets capable of attracting high quantities of contamination.
This unit is very versatile and can be used in various processes. The Rare Earth Neodymium strip magnets are usually installed above transfer conveyors and vibratory feeders to attract 'tramp' type contamination and any loose machinery that has fallen off during the manufacturing or packaging stages.
The unit consists of two rows of magnetic material running the full length of the unit. These generate high-intensity magnetic flux fields, which reach approximately 3.5 inches (85mm) from the front face of the unit. Magnetism is only present on one face, ensuring that no surrounding sensitive process machinery is affected. 'Tramp' contamination can be attracted from the conveyor surface even when trapped underneath the product.
Applications
Suitable for all conveyed products less than 3.5 inches (85mm) thick
Can be installed above transfer belt conveyors and vibratory feeders
Benefits
Suitable for wash down
Easy to clean and install
High collection of contamination capacity
Rare Earth deep magnetic field
Performance
Magnetic Performance: 4000 Gauss
Performance Reading: On the magnetic front face
Magnet Field Depth: 3.5 inches - Using 0.19 inches Ø 0.98 inches (85mm - Using 5mm Ø 25mm) long mild steel test piece
Magnet Grade: N35 - Inspected and confirmed via hysterograph prior to use
Temperature: -4°F/+194°F (-20°C/+90°C)
Pressure + 87 psi (6.0 bar)
Construction
Magnetic Material: Rare Earth Neodymium Iron Boron - (NdFeB)
Housing: 304-grade stainless steel
Surface: Finish Brushed
You may also be interested in Housed Underflow Separator