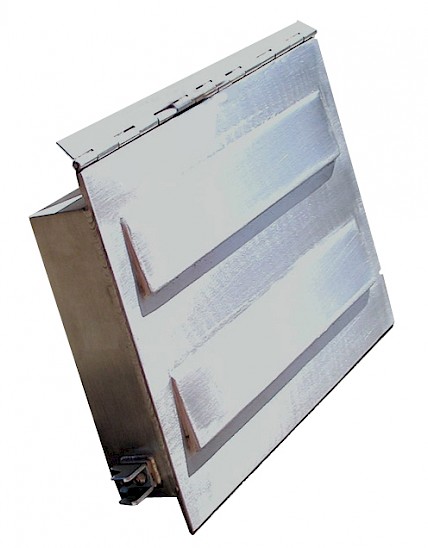 Hover to zoom
Underflow Magnetic Separator
Removes large ferrous contamination on inclined chutes
Ideal for arduous operating conditions
ATEX approved versions available
Suitable for dry, semi-dry powders and granulates
Easy to clean manually
Overview - Underflow Magnetic Separator
High-intensity underflow magnets for large size contamination
The underflow magnet has been designed to operate in arduous conditions and where contamination size is relatively large e.g. nuts, bolts etc. The unit incorporates two magnetic poles which generate high-intensity magnetic fields.
The unit is secured to the chute by a hinge and toggle clamp arrangement. The toggle clamps ensure even pressure is generated around the seal to prevent any product leakage.
The underflow magnet can be incorporated into any form of angled pipe or chute section. A common installation location is at raw material inlet points for products such as grain, rice, corn, bran and animal feed etc. Two catchment areas ensure that attracted contamination cannot be "washed off".
Applications
Suitable for dry and semi-dry powders, granulates and lumps etc.
Can be installed all angled chute sections
Benefits
Easy to clean
Maintains full flow
Reduces "spark" risk
Removes "tramp" sized contaminants
Meets audit requirements
Rare Earth deep magnetic field
High collection capacity
Performance
Magnetic Performance: 3,500 Gauss
Performance Reading: On the magnetic front face
Magnet Grade: N35 – Inspected and confirmed via hysteresigraph prior to use
Temperature: -4°F / +194°F (-20°C / +90°C)
Depth of field: 3.5 inches (90mm)
Construction
Magnetic Material: Rare Earth Neodymium Iron Boron - (NdFeB) Housing 316-grade stainless steel
Other Parts: 316-grade stainless steel
Hinge: 304-grade stainless steel
Toggle Clamps: Zinc plated mild steel
Surface Finish: Brushed to 2.4μm