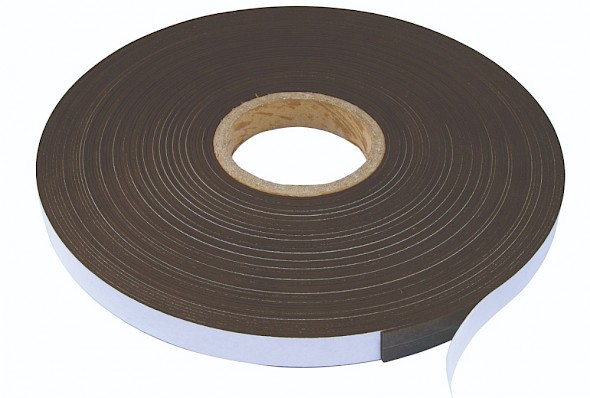 Hover to zoom
Magnetic Tape
Ideal for display applications or attaching secondary glazing
Strontium ferrite in thermo-plastic binder.
Max. operating temperature 176°F (80°C).
Magnetic on 1 face only.
Can be cut with scissors.
All supplied with standard acrylic adhesive.
Overview - Magnetic Tape
Flexible magnetic tape is a thin extruded material comprising of strontium ceramic magnetic powder within a thermo-plastic binder. The flexible magnetic rubber tape (as it is also known) will attract to magnetically receptive surfaces such as mild steel, ferromagnetic stainless steel and other high magnetic permeability materials (e.g. iron). It is usually magnetized on one face only (multiple pole across the width), and can attract to itself, but only the mating versions give perfect alignment.
The flexible magnetic rubber tapes have a maximum recommended operating temperature of +176°F (+80°C) – above this temperature the thermo-plastic (rubber) binder starts to soften causing a demagnetization as the magnetic domains realign to cancel themselves out. The flexible magnetic tape is mainly used with itself or with steel tape.
The steel tape, existing with adhesive backing, can be fixed to a surface to allow magnets, such as the magnetic rubber tape to be attached to it and easily removed afterwards as required. The magnetic tape comes in a variety of thicknesses and widths.
All of the magnetic tapes are easy to cut into different lengths – simply cut them to size with a pair of scissors. For more performance, simply use more surface area of tape. When using tape on tape for performance, it is recommended to adhere one tape down on where it is required, overlay the other tape (magnetically overlapping), then remove the adhesive liner and adhere the other part in place (this guarantees the best magnetic performance possible).
Magnetic tape works best either in direct contact with ferrous surfaces (such as mild steel sheet) or in direct contact with itself – any air gaps in the way will cause a reduction in achievable pull force. Magnet on magnet can be up to two times the performance of magnet on steel.
There are four possible finishes in relation to the adhesive backing layer:
• Plain - no adhesive • Standard acrylic adhesive backed - suitable for applying to card
• Premium acrylic adhesive backed - suitable for applying to metal and plastics
• Foam adhesive backed - suitable for applying to uneven surfaces
"We were delighted with the service provided by Eclipse Magnetics; from the initial site survey through to delivery."
"I cannot begin to tell you how much it has helped our operation, the magnetic filtration unit has been a real problem solver it has surpassed all our expectations. Its cured a 30 year plague!"
"This technology is economical, reliable and efficient. I believe that magnetic filtration technology is the future."
"Magnetic filtration has dramatically cleaned up our fluids and improved the surface finish we can offer. It extracts around 50Kg per day of ferrous waste."
"We chose Eclipse Magnetics to supply our housed grid because they are a respected and well-established brand. They offered us a very competitive price, and the process of ordering and installation was straightforward and reliable."
"We are delighted with the Automag installation; it's solved all the problems we were having previously with downtime and maintenance costs. The filter means that we are able to use recycled water, which is saving us £1000 per week!"
"Here at Qualflow, we base our business on a philosophy of make the product simple to use, reliable and cost-effective. Eclipse Magnetics' neodymium magnets offer the strongest magnetic performance, and are nickel plated, making them a cost effective.."
"The Ultralift Plus magnetic lifter from Eclipse Magnetics is the perfect solution for the pick-up and transportation of the ultrasonic calibration blocks in our facility"
"The result is an aesthetically pleasing system, which is effective in trapping metal contaminants and is easy to clean..."