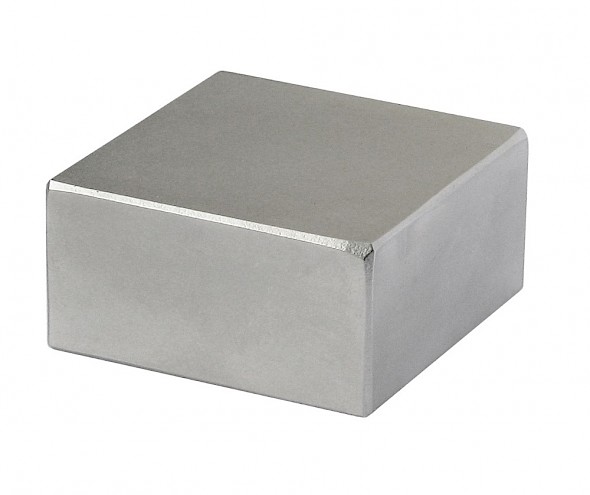 Hover to zoom
Neodymium Block Magnets
Where compact size and high strength are required
Strongest magnetic performance
Nickel plated
N35 grade material
176°F (80°C) max operating temperature
Overview - Neodymium Block Magnets
Neodymium (rare earth) NdFeB block magnets
Neodymium magnets or NdFeB block magnets are usually specified by their three dimensions such that the first two dimensions detail the size of each magnet pole face and the last dimension specifies the distance between the poles (the magnet is magnetized in the same direction as the last dimension). The NdFeB Neodymium block magnets could be NdFeB Neodymium rectangular magnets or NdFeB Neodymium square magnets, NdFeB Neodymium slab magnets or NdFeB Neodymium cube magnets. Any such shapes (rectangle, square, slab or cube) fall under NdFeB Neodymium block magnets.
Magnet Design for Alternative Magnetic Systems
For very tall magnets (where the height is larger than the pole face dimensions, the block magnets are referred to as bar magnets and such magnets have their own online section). The larger the pole face area the better the magnet will be at attracting through larger air gaps (the magnet will project a stronger field at distance).
Magnets can be stacked in multiples of their pole to pole distance (they will attract each other to build height) which will give increases in performance but increasing the magnet height further will eventually start to give less and less increase as the performance starts to plateau off. When this happens and more performance is required then a larger pole face area magnet is needed (magnetic design could be used to give an alternative magnetic system but we would have to discuss your application to assist you). The direction of magnetization is physically locked into the structure of the magnet - you cannot change it to be in a different axis (you would need to get another magnet produced).
Maximising Magnetic Pull
If you are clamping a magnet between two mild steel (ferromagnetic) plates you have a good magnetic circuit (with some leakage around the sides). But if you were to have two NdFeB Neodymium block magnets side by side in a N-S arrangement (they will attract extremely strongly in this way), you have an even better magnetic circuit with potentially even higher magnetic pull with very little air gap leakage involved and the magnets will be getting close to working at their maximum possible performance (assuming the steel does not magnetically saturate). Take this idea further and consider a checker-board effect (-N-S-N-S- etc) clamping between two mild steel sheets and you have a maximum pull force system limited only by the steel's ability to carry all the magnetic flux.
Model Variations
Product Number
Height (inches)
Height (mm)
Length (inches)
Length (mm)
Pull force (lbs)
Pull force (kg)
Units per pack
Width (inches)
Width (mm)
N817
0.12
3.0
1.00
25
6.4
2.9
10
0.39
10
N818
0.20
5.0
1.00
25
10.8
4.9
4
0.39
10
N819
0.20
5.0
1.38
35
12.8
5.8
5
0.39
10
N820
0.12
3.0
2.00
50
12.8
5.8
1
0.79
20
N821
0.50
12.5
2.00
50
88.4
40.1
10
2.00
50
"We were delighted with the service provided by Eclipse Magnetics; from the initial site survey through to delivery."
"I cannot begin to tell you how much it has helped our operation, the magnetic filtration unit has been a real problem solver it has surpassed all our expectations. Its cured a 30 year plague!"
"This technology is economical, reliable and efficient. I believe that magnetic filtration technology is the future."
"Magnetic filtration has dramatically cleaned up our fluids and improved the surface finish we can offer. It extracts around 50Kg per day of ferrous waste."
"We chose Eclipse Magnetics to supply our housed grid because they are a respected and well-established brand. They offered us a very competitive price, and the process of ordering and installation was straightforward and reliable."
"We are delighted with the Automag installation; it's solved all the problems we were having previously with downtime and maintenance costs. The filter means that we are able to use recycled water, which is saving us £1000 per week!"
"Here at Qualflow, we base our business on a philosophy of make the product simple to use, reliable and cost-effective. Eclipse Magnetics' neodymium magnets offer the strongest magnetic performance, and are nickel plated, making them a cost effective.."
"The Ultralift Plus magnetic lifter from Eclipse Magnetics is the perfect solution for the pick-up and transportation of the ultrasonic calibration blocks in our facility"
"The result is an aesthetically pleasing system, which is effective in trapping metal contaminants and is easy to clean..."