Champions on Site: UWR Visit Atlas as Part of Sponsors Tour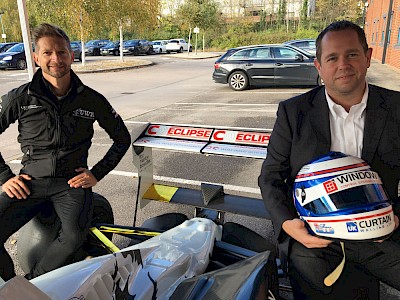 Staff at the Eclipse Magnetics head office in Sheffield enjoyed a morning of high-octane fun as the F3 Cup Class Championship winning Dallara F308 rolled into town as part of the University of Wolverhampton Racing Team's sponsor tour.
Employees from across much of the Spear & Jackson Group were given the opportunity to learn more about the UWR project from key members of the racing team, as well as getting up close and personal with the trophy-winning car, with some even taking the opportunity to get into the hot seat themselves.
Eclipse Magnetics Sales Director, Dave Smith, said: "It was an absolute pleasure to have the UWR Dallara on site today, after such an incredible season for the team, it was a marvellous opportunity to have them on-site for all the staff at Eclipse, as well as the wider group, to see just what a magnificent amount of skill and sheer determination goes into building this impressive car, and how valuable to the UWR programme is for the future of motorsport."
Eclipse Magnetics began its sponsorship of the University of Wolverhampton racing team in 2021, offering its expertise in magnetic tools to the student team.
Terry Gibson, Development Manager for University of Wolverhampton Racing said: "We value all of our sponsors and it has been a great opportunity for us to be able to get out and see a good number of those who have supported us during the season. It was a fantastic turn out at Eclipse and was a delight to introduce so many staff to our car."
Having clinched the title during the last race of the season, Terry, alongside the team's champion driver, Sean Kelly, embarked on a winner's parade visiting many of the team's sponsors during the first week of November.