10 Year Long Service Award: Dan Bryan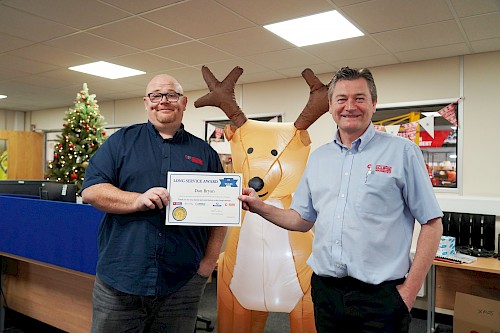 Eclipse Magnetics are delighted to present Dan Bryan with a 10-year Long Service Award.
Dan joined Eclipse Magnetics in March 2012 as a Purchasing Assistant working with UK and overseas suppliers to maintain and reduce our operating costs while maintaining our product quality and was promoted to Purchasing Manager in 2017.
Since joining the company, Dan's made significant contributions to cost reduction programmes, streamlining processes, developing the supply chain and stock management. Over the last few years, he's been challenged to be agile and flexible in his role as a result of the Covid-19 global epidemic and successfully managed the supply chain through this turbulent period.
Andrew Reeve, Operations Director commented "It gives me great pleasure in presenting this award to Dan and I look forward to celebrating Dan's 20-year long service award in 10 years' time."