Eclipse Magnetics Become Made in Britain Members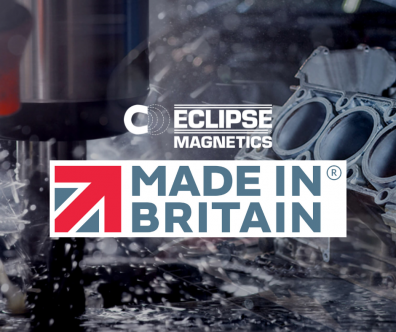 Eclipse Magnetics is delighted to announce it has become an official member of the Made in Britain certified list of British manufacturers.
Made in Britain brings together the British manufacturing community, and it is widely regarded as a symbol of quality manufacture, service and reliability. The Made in Britain mark helps consumers, buyers and specifiers identify products that are made in Britain.
Steve McAllorum, Managing Director at Eclipse Magnetics said: "We are proud to be a UK-based manufacturer and to now use the Made in Britain mark as a worldwide symbol of quality. It's an honour to have been certified by Made in Britain and shows our dedication to our investment in UK based technology, manufacturing facilities, skills and training. We have an extensive UK design, engineering and manufacturing site in the UK which uses magnetic technology to provide a competitive edge to a variety of industries, we're delighted to fly the flag for Great Britain. We believe the "Made in Britain" mark will be a great positive for both our export and home markets."
With an unrivalled magnetic products portfolio and wealth of expertise, Eclipse Magnetics has been at the forefront of magnetic technology for over 100 years. Its Sheffield based manufacturing centre produces high-performance magnetic filtration systems, fine particle magnetic separators and safety-critical handling systems.
Magnets and magnetics continue to be key components used in most industrial and commercial and even consumer arenas; Eclipse magnetics is fully committed to investing in the UK to serve these markets.