Eclipse Magnetics Named as an Official Sponsor of the University of Wolverhampton Racing Team (UWR)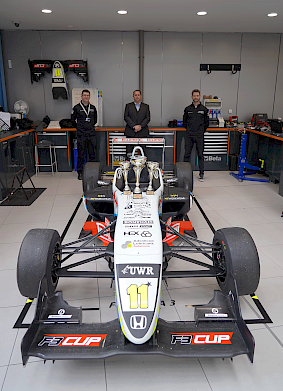 Eclipse Magnetics is delighted to announce that it has become an official sponsor of the University of Wolverhampton Racing team (UWR).
As part of the University of Wolverhampton's School of Engineering, UWR gives students the opportunity to design, manufacture, and race in a professional competitive motorsport environment. As a result, students gain valuable engineering experience, leading to motorsport and automotive jobs, as well as wider industry.
Involvement in UWR is open to all University of Wolverhampton students, and is a once in a lifetime opportunity to gain knowledge and experience in a fast-paced racing environment. It is a perfect example of the University's commitment to producing graduates who can apply both theory and practice in the industry.
Dave Smith, Sales Director at Eclipse Magnetics said: "We are absolutely delighted to be named as an official sponsor of the University of Wolverhampton Racing team (UWR). This is a fantastic opportunity for us to engage with the future talent of engineering and manufacturing, capturing student's imagination and interest in magnets and magnetic technologies as part of their wider University education."
UWR is unique in Higher Education with the breadth of racing opportunities it offers to students from all engineering disciplines. Overseen by a professional racing driver and motorsport engineers, students race a variety of cars including a Formula 3 Dallara F308 in the F3 Cup and a Formula Student car which students design, build and drive every year in the IMechE Formula Student competition.
Dr Syed Hasan, Head of the School of Engineering said: "We are delighted to have Eclipse Magnetics on board as one of our 2021 season sponsors. It's fantastic to be associated with such a high-profile name. As pioneers in magnetic technology, displaying the same innovative values as ourselves, their sponsorship provides more opportunities for our students to gain the vital hands-on experience that will benefit their future careers. The team are looking forward to working with Eclipse Magnetics through the course of the season."
In 2021, UWR has become the factory works team of the Morgan Motor Company, developing their all-new Plus Four for racing in the coming season. This is an extraordinary demonstration of skill and temperament by the UWR team, as well as the faith shown in the student team by the prestigious classic car manufacturer.
The COVID pandemic has meant that many students in the 2021 team are experiencing live racing for the first time, but the hands-on, practical experience and peer-to-peer learning that drives UWR will ensure that every member of the team is fully prepared, whether they are supporting the single-seater racing of F3 Cup, the road-derived motorsport of Morgan or the engineering challenge of Formula Student.
UWR students gain a tremendous amount of industry experience from the team, but also from the guidance and input from sponsors. Working with experts in the industry elevates their knowledge, expands their career aspirations, and helps the team perform better in the workshops and at the racing circuit.