Eclipse Magnetics' Sponsored UWR F3 Cup Team Impress at Oulton Park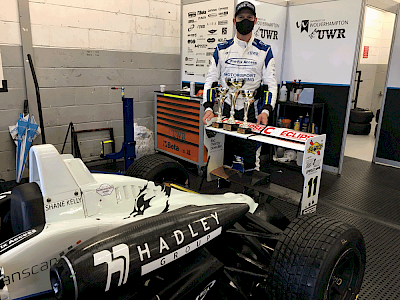 The F3 Cup was back in action at the weekend (24th July) as teams took the track once again. The one-day event saw teams compete for the top spot during races 6 and 7 of the racing calendar at Oulton Park in Cheshire.
The Eclipse Magnetics' sponsored team, University of Wolverhampton Racing (UWR), put in a strong performance with driver Shane Kelly taking the podium with a P1 finish in the first race of the meeting and P2 in the second. UWR were also F3 Cup class winners in race 2, scoring a total of 68 points over the weekend, seeing Shane move up to 2nd in the championship table, sitting at 218 points overall.
Dave Smith, Sales Director at Eclipse Magnetics, said: "It's fantastic to see Shane and the UWR move up the leaderboard at Oulton Park this weekend. The work that the students put in is second-to-none. It's a real honour to be able to sponsor such a passionate team. We can't wait to see what the next race at Brands Hatch has in store."
The F3 Cup championship is one of the quickest in the UK, with lap times consistently being the fastest recorded at an individual meeting, with 5 circuit lap records held either by an F3 Cup driver or former British F3 cars eligible to race.
The competition allows drivers to sample cars in full F3 specification, without the full excesses and cost implications of the professional championship, offering the perfect environment for the future stars of motorsport to hone their skills in a competitive environment.
The next round of the F3 Cup will take place at Brands Hatch on the 21st and 22nd of August.