Eclipse Magnetics Sponsored University of Wolverhampton Racing Team Take the Treble for the First Time since 2017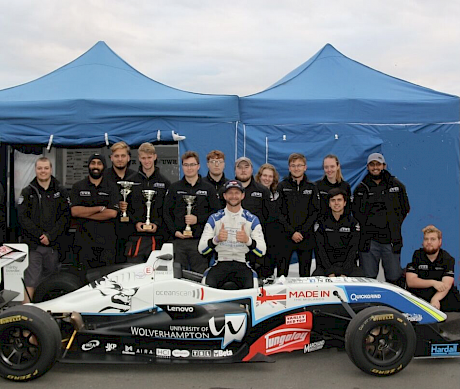 The UWR team impressed at the weekend as it took a triple win at Donington National Circuit. The remarkable achievement is the first time the team has taken all three wins from a racing weekend since the 2017 season.
It was the team's first time running their F308 Honda Formula 3 car at Donington GP circuit at Donington GP circuit and with members of the Eclipse team in attendance, the UWR's performance went from strength-to-strength, with the world-famous circuit proving lucky for the third time, having secured the treble in 2016 and 2017.
As the sun set over Castle Donington and UWR and Shane Kelly took their third class win of the weekend, it gave the student team a 40-point buffer ahead of the final day of racing at Snetterton on Saturday 25th September.
Head Engineer for UWR, Sunny Motay, said: "There's always some expectation going to Donington Park, and living up to the success from 2016 and 2017 triple wins, so to do the triple in 2021 is unreal!"
Donington Park holds the title of the oldest motorsport circuit in the UK that is still in operation. Originally part of the Donington Hall estate, it was first used for motorsport 1931 on the narrow lanes of the access roads to the hall.
The track was widened in 1933 and made permanent, becoming a venue for Grand Prix car racing. With the addition of the Melbourne Loop section in 1985 came Grand Prix motorcycle racing with that eventually became known as MotoGP. One of the most famous events at the restored circuit was the 1993 European Formula One Grand Prix, which was dominated by Ayrton Senna and featured the legendary opening lap, still described by many as the best in F1's history.
| | | | | |
| --- | --- | --- | --- | --- |
| 1 | 28 | Stefano | Leaney | 448 |
| 2 | 11 | Shane | Kelly | 404 |
| 3 | 15 | George | Lane | 365 |
| 4 | 4 | 21 | Tony | 305 |
| 5 | 8 | Dominic | Paul | 285 |
| 6 | 66 | John | Corbett | 225 |
| 7 | 90 | Mark | Harrison | 114 |
| 8 | 5 | Stuart | Wiltshire | 45 |
| 9 | 4 | James | Winslow | INV |
| 10 | 77 | Robbie | Watts | INV |
| | | |
| --- | --- | --- |
| | Name | Total |
| 1 | CF Racing | 387 |
| 2 | Uni. of Wolverhampton | 374.5 |
| 3 | Team Fox Racing | 325 |
| 4 | Chris Dittmann Racing | 269 |