Eclipse Magnetics Achieves EHEDG Certification for the Pneumag Magnetic Separator
Eclipse Magnetics is now able to offer an EHEDG magnetic separator, for use in pneumatic conveying lines, lean/dilute phase, and gravity pipes, with EHEDG Type EL Class II Certification. After careful evaluation for compliance from the European Hygienic Engineering & Design Group (EHEDG), the unit has successfully met the current criteria and the essential hygienic design guidelines as set out by the group.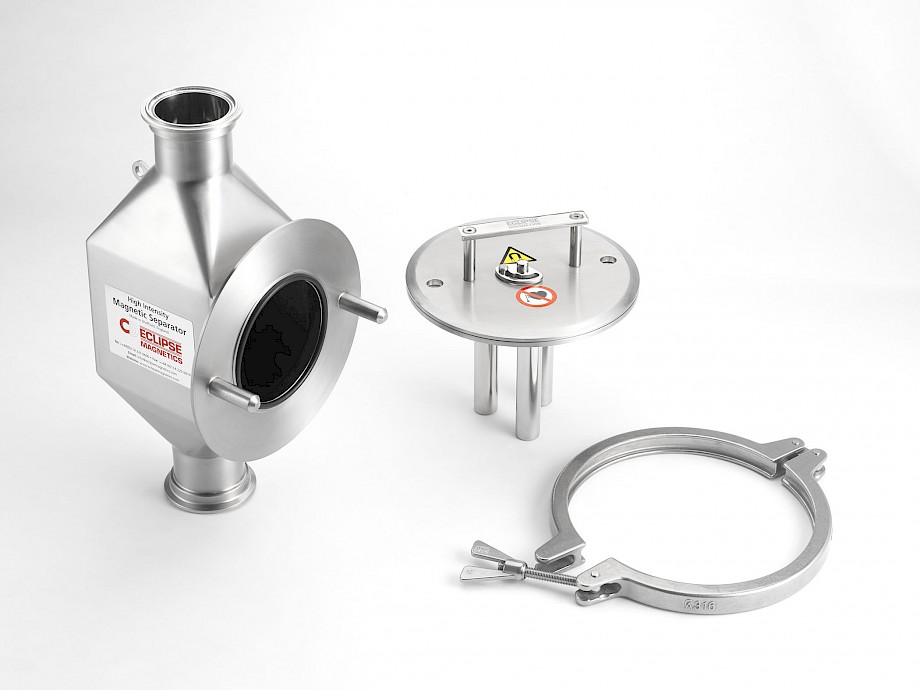 Hygienic Engineering and Design
The principal goal of EHEDG is the promotion of safe food by improving hygienic engineering and design in all aspects of food/pharmaceutical manufacturing. As magnetic separators play a vital role in guaranteeing finished product purity and quality in pneumatic conveying lines and gravity pipes, there are many benefits of this certification to Eclipse Magnetics' customers.
Martyn Cotterill, General Sales Manager for Foreign Body Removal at Eclipse Magnetics said: "We are delighted that our magnetic separator has achieved EHEDG Type EL Class II Certification. It is a huge achievement for us, and we're very pleased to be able to show our commitment to hygienic design and to offer our customers the new EHEDG certified magnetic separator."
Conforming to Stringent EHEDG Guidelines
Alison Naismith, lead Engineer on the project said: "We spent a considerable amount of time working closely with specialist suppliers and other EHEDG members to produce prototype units to meet this specification. The approval process requires multiple assessors to agree that the designs conform to stringent EHEDG guidelines, so we're delighted to have achieved this certification and to add this product to our range."
Eclipse Magnetics' EHEDG magnetic separator is a high intensity magnetic separator specially designed to operate in pneumatic conveying lines and gravity pipes, providing optimum protection against ferrous and paramagnetic contamination. Suitable for dry powders and granulates, the EHEDG magnetic separator removes any ferrous contamination, including the smallest particles. In addition to meeting EHEDG criteria, the EHEDG magnetic separator is also an important component for effective HACCP programmes and customer site audits.
The European Hygienic Engineering & Design Group (EHEDG)
The European Hygienic Engineering & Design Group (EHEDG) is a non-profit consortium of equipment manufacturers, food producers, suppliers to the food industry, research institutes and universities, public health authorities and governmental organisations.
"We were delighted with the service provided by Eclipse Magnetics; from the initial site survey through to delivery."
"I cannot begin to tell you how much it has helped our operation, the magnetic filtration unit has been a real problem solver it has surpassed all our expectations. Its cured a 30 year plague!"
"This technology is economical, reliable and efficient. I believe that magnetic filtration technology is the future."
"Magnetic filtration has dramatically cleaned up our fluids and improved the surface finish we can offer. It extracts around 50Kg per day of ferrous waste."
"We chose Eclipse Magnetics to supply our housed grid because they are a respected and well-established brand. They offered us a very competitive price, and the process of ordering and installation was straightforward and reliable."
"We are delighted with the Automag installation; it's solved all the problems we were having previously with downtime and maintenance costs. The filter means that we are able to use recycled water, which is saving us £1000 per week!"
"Here at Qualflow, we base our business on a philosophy of make the product simple to use, reliable and cost-effective. Eclipse Magnetics' neodymium magnets offer the strongest magnetic performance, and are nickel plated, making them a cost effective.."
"The Ultralift Plus magnetic lifter from Eclipse Magnetics is the perfect solution for the pick-up and transportation of the ultrasonic calibration blocks in our facility"
"The result is an aesthetically pleasing system, which is effective in trapping metal contaminants and is easy to clean..."