MicroMag Improves Surface Finish and Extends Grinding Wheel Life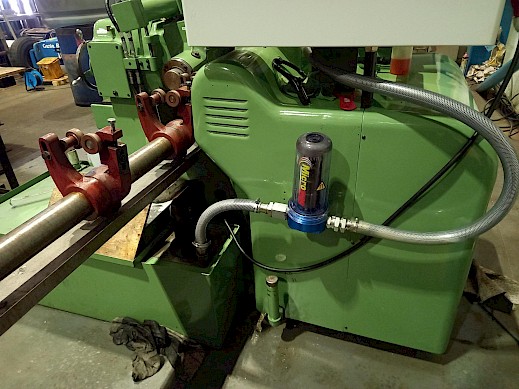 A major European material producer and distributor based in Rugby, UK, has enjoyed impressive results from its MicroMag supplied by Q8 Oils.
A bright/cold finished bar producer, specialising in the manufacture of high-quality engineering steels, including Rounds, Hexagons, Squares and Flats, the company installed an Eclipse Micromag MM10 from coolant pump to flood delivery.
The patented, compact Micromag magnetic filter allows contaminated fluid to enter the inlet port where it is dispersed by the unique tapered radial flow channels. Fluid passes down the outside of the centrally mounted rare earth magnetic core which captures contamination particles along its length, resulting in excellent filtration efficiency.
The geometry of the magnetic flux circuit means that contamination builds up in a controlled way, ensuring that the filter can never block, irrespective of how much contamination is held. Channels remain open allowing fluid to continue to flow freely.
The filtered fluid flows through the return slots located in the upper section of the magnetic core, down through the centre and exits through the outlet port.
Chris Pybus of the company's Maintenance Department said: "On commissioning of the grinding machine, the coolant system features a settling tank only, allowing fine metallic debris to be suspended in the metalworking fluid. Our Q8 Certas service technician introduced the concept of magnetic filtration to increase the efficiency of the process. Installation was extremely easy by a straightforward tee into the line between the coolant pump and delivery nozzles."
Results from the installation certainly didn't disappoint, with surface finish improvement from 32 micro inch to 26-28 micro inch and its wheel dress frequency reduced by 20%.