Micromag Increases Filter and Machine Tool Life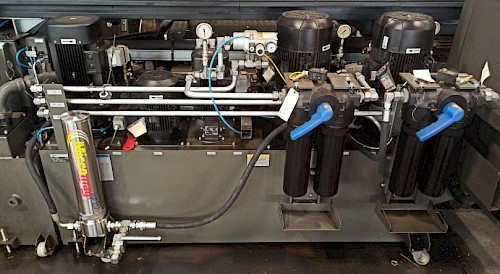 A European machining company in Belgium has enjoyed impressive results after installing two of Eclipse Magnetics' Micromag HP80 Magnetic Filters.
Dedecker, is a specialist in the manufacturing of high precision metal and plastic parts to the strictest of requirements, their standard media filtration that came with the existing machines was needing to be changed monthly and was also not capturing fine particles.
The company bought and installed two MM20/HP/80 Magnetic Filters from Eclipse Magnetics that removes fine particles from the system and increases the filter life of the standard filters. They also found that the new magnetic filters stop fine particles being sprayed at high pressure onto the component being machined which also increases the machine tool life.
Louis Bouverne, Methods Engineer at Dedecker, said: "The 100µm filters on our machines were often full of thin chips and we had to change them too frequently. We reached a point where we were having to change them every three days. From the moment we installed the magnetic filters, the oil is clean enough to pass through the second filter so we don't need to change it anymore. Since the beginning of September we have only had to clean the magnet. With the cleaning of filters costing 65€ the return on investment for the magnetic filters is very good. All round it is good news and we are really happy with the system."
The patented, Micromag magnetic filter allows contaminated fluid to enter the inlet port where it is dispersed by the unique tapered radial flow channels. Fluid passes down the outside of the centrally mounted rare earth magnetic core which captures contamination particles along its length, resulting in excellent filtration efficiency.