Supporting Our Local Community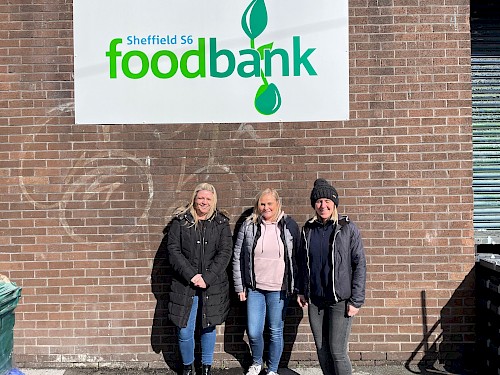 At Eclipse Magnetics, we are passionate about supporting our local communities. That's why our employees (and all employees within the Spear & Jackson Group) have the opportunity to take time out of work to volunteer for causes that are important to them.
Rachael, Sarah F & Sarah S recently spent a day volunteering at S6 Foodbank. We caught up with Rachel to learn more about their experience.
"Well, what a morning! Sarah F, Sarah S and I have had the absolute privilege of spending the morning volunteering at the S6 Foodbank. We arrived just before 9am all slightly unsure of what to expect, but Chris, Bethany and the team there welcomed us in taking time to explain how the foodbank came about, how they operate, and what we could expect. S6 Foodbank is part of the Trussell Trust, the charity that the Spear & Jackson Group are currently supporting with regular monthly donations, however, they actually offer more than just a foodbank service.

Their site is essentially a warehouse, but they have converted some space at one end into a café area so that when people come to collect their food they can sit down and relax with a brew and biscuit (or two) and chat to one of the team of volunteers. Sometimes a friendly face and a chat is absolutely enough, but it is also an opportunity for people to ask for guidance with all manner of things from problems with their council house, domestic abuse, the cost of energy, benefits the list goes on. To support this requirement S6 have teamed up with the council, the Citizens Advice Bureau and other agencies; each of these agencies is now represented at the foodbank sessions and are able to offer their expertise, support and advice to anybody there that needs it.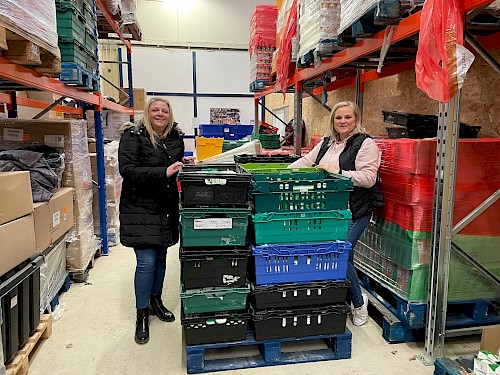 After our induction, the three of us spent a couple of hours breaking down pallets of UHT milk cartons and repacking the cartons into smaller crates for redistribution to the other foodbank sites across the city – it was certainly a good workout!!! At 11am the foodbank session opened, we took it in turns to make tea and coffee and spend time chatting to the people who had come to collect food.
The chatting bit is part of S6's holistic approach to supporting people. A conversation or taking time to listen to somebody probably seems like nothing to you or I, however to many of the visitors to S6 it is possibly the only contact they have had all week; this interaction can have a genuinely positive impact on their day.
I spent some time talking to Kateryna and her elderly mother, they are refugees having arrived in the UK from the Ukraine just over two weeks ago. Kateryna was a marketing executive working for a cosmetics company before the war, she said they never ever thought they would be describing themselves as refugees and visiting a foodbank, but there they were. Her 7-year-old daughter had started school in Sheffield this week, Kateryna was also offered some children's books that had been donated for visitors to take, she gratefully accepted these along with the food.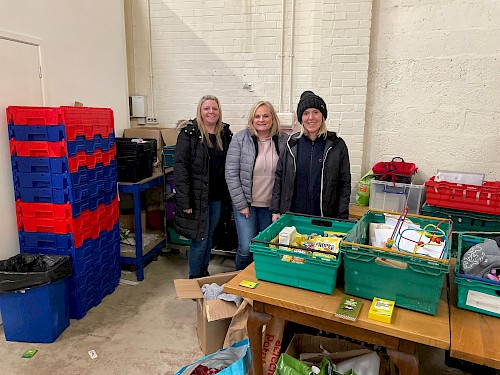 The foodbank session ended at 1pm after which all the volunteers gathered around for a debrief with the team leader, this was an opportunity to share anything concerning or equally anything positive; and that was the morning done.
We were blown away by the incredible work S6 does to help people who are genuinely struggling to make ends meet, and while all three of us were acutely aware of the inbox full facing us on our return to work we all felt the experience was a hugely positive one - both for us and hopefully for the people we met; we are looking forward to returning for next Tuesday morning's session."
Rachael Berry, Commercial Manager
"We were delighted with the service provided by Eclipse Magnetics; from the initial site survey through to delivery."
"I cannot begin to tell you how much it has helped our operation, the magnetic filtration unit has been a real problem solver it has surpassed all our expectations. Its cured a 30 year plague!"
"This technology is economical, reliable and efficient. I believe that magnetic filtration technology is the future."
"Magnetic filtration has dramatically cleaned up our fluids and improved the surface finish we can offer. It extracts around 50Kg per day of ferrous waste."
"We chose Eclipse Magnetics to supply our housed grid because they are a respected and well-established brand. They offered us a very competitive price, and the process of ordering and installation was straightforward and reliable."
"We are delighted with the Automag installation; it's solved all the problems we were having previously with downtime and maintenance costs. The filter means that we are able to use recycled water, which is saving us £1000 per week!"
"Here at Qualflow, we base our business on a philosophy of make the product simple to use, reliable and cost-effective. Eclipse Magnetics' neodymium magnets offer the strongest magnetic performance, and are nickel plated, making them a cost effective.."
"The Ultralift Plus magnetic lifter from Eclipse Magnetics is the perfect solution for the pick-up and transportation of the ultrasonic calibration blocks in our facility"
"The result is an aesthetically pleasing system, which is effective in trapping metal contaminants and is easy to clean..."