Team S&J raise over £2,400 for The Children's Hospital Charities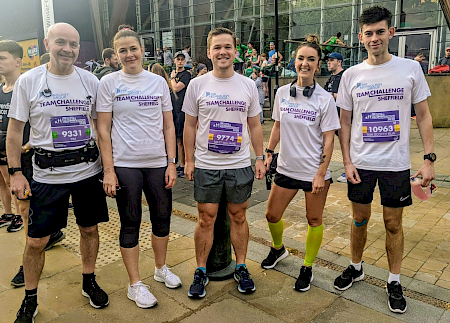 Team members from companies within the Spear & Jackson Group have raised an incredible £2410.00 by running the Sheffield Half Marathon in September in aid of The Children's Hospital Charity.
Thousands of runners took to the hills of Sheffield on the 26th of September raising money for many fantastic causes. Team S&J, including Katie Weller, Lauren Saltfleet, Eclipse Magnetic's very own Tim Hollingsworth, Matt Williams and Scott Evans, all completed the mammoth race in under two hours, with an average time of 1:54:31, placing them 10th overall in the team challenge. Katie, who was also running on her birthday, finished 3rd overall of the women participating in the team challenge.
Whilst celebrating the impressive personal achievements, their incredible efforts also smashed the fundraising target set at the beginning of their campaign, raising over £150 above their original goal of £2250.
The Children's Hospital Charity raises money to build a better future for children who visit Sheffield Children's Hospital. Each year over 245,000 patient visits are made to Sheffield Children's Hospital from across South Yorkshire, the UK and the world. This includes the 200 children a day who visit the Emergency Department, the 90 patients a year who are treated on the Cancer and Leukaemia Ward, as well as the Major Trauma patients who arrive via helicopter when every second counts.
Upon receiving the donation, Senior Corporate Partnerships Assistant at The Children's Hospital Charity, Chloe Brunton-Dunn, said: "On behalf of the patients, families, and staff at Sheffield Children's - thank you for your kind donation of £2,410.00 recently received by The Children's Hospital Charity from your Sheffield Half Marathon 2021 Fundraising.
Sheffield Children's is unique in the breadth of its expertise, and your continued support allows us to support children and young people in so many different ways. Children and young people travel from all over the country, and the world, to Sheffield Children's for treatment, making the hospital one of the nation's best for paediatric care and home to some of the UK's leading clinicians.
Thanks to your help, we work hard every day to provide the best possible equipment, fund ground-breaking medical advancements in research, create new facilities and provide a comfortable and engaging hospital environment.
Our supporters, patients and their families inspire us to be bolder, to be braver and to make every day count. Together, we can help Sheffield Children's continue its vital work in paediatric care, giving children the best chance to fulfil their potential."
We're incredibly proud of the fantastic achievement of our Team S&J runners and offer our huge congratulations on an outstanding fundraising effort and thank everyone who kindly donated to the cause.