Team S&J Take On The Sheffield Half Marathon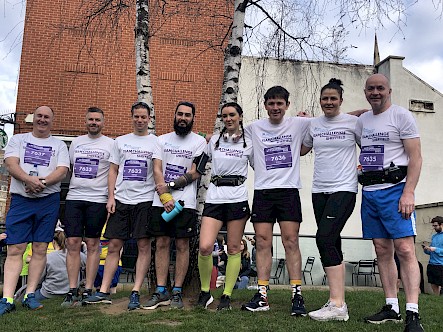 Sheffield Half Marathon is one of the UK's most popular half marathons and it's easy to see why, it really is one of a kind! With a fantastic city centre start and finish, great urban scenery, transitioning into spectacular Peak District national park views, and some hugely enthusiastic supported-lined streets; it's an awesome event, even incorporating a 'triple test', including King/Queen of the Hills with a timed uphill section, a timed 10k downhill sprint section and of course the Half Marathon in itself!
With Sheffield being the home of S&J Group Head Office, Team S&J have had a presence at the event for a number of years and hope to continue to attend the event for many years to come! This year Team S&J included employees from across the Group with all Group companies represented, with members of the team having a true mix of abilities and reasons for running, and this year choosing to fundraise for British Heart Foundation.
On the day of the race, the weather was a perfect spring day, Sheffield City Centre amas of runners, supporters, charity stands, Marshalls and musicians, with an 'eau de deep heat' in the air, standard crazy toilet queues, lively warm-ups and last-minute energy food consumptions going on! All adding to the excitement of the event, and of course the intrepidation and anxiety and all the other emotions to boot! 09:30 came and the runners were off….
THIS IS A TOUGH COURSE WITH AN ASCENT OF OVER 1000FT, MUCH OF THAT IN THE FIRST 5.5MILES, AND TEAM S& J DID THEMSELVES PROUD, WITH ALL RUNNERS COMPLETING THE CHALLENGING COURSE, RAISING OVER £1,500 FOR BRITISH HEART FOUNDATION! ON TOP OF THAT IN THE CORPORATE CHALLENGE, TEAM S&J WERE PLACED 3RD OUT OF 11 PARTICIPATING CORPORATE TEAMS, WITH A TEAM TIME OF 01:40:39, THANK YOU MIKE TURNER FOR YOUR 01:33:54 TIME WOW, AND THANK YOU ALL RUNNERS YOU DID YOURSELVES, THE GROUP AND THE CHARITY PROUD.
For anyone wanting to donate, and help celebrate our runners and fundraise for this fantastic cause there is still time to do so: -
https://www.justgiving.com/fundraising/spear-and-jackson-group12
We asked a few of our runners how they felt after the event:
Katie Weller (Group HR) "amazing atmosphere, awesome teamwork, eye-watering achievements and fabulous fundraising". Tim Hollingsworth (Eclipse Magnetics) "what a great day, perfect weather and brilliant atmosphere all the way round, wanted to beat my 1 hour 54 mins time that I did in last Septembers race, so was over the moon with a PB of 1 hour 47 mins, but the real highlight for me was seeing my daughters face, after completing her first organised half marathon when her chip time came through and she had just gone under 2 hours by 5 seconds, her face was an absolute picture, that's what events like this are all about, and of course raising as much money as possible for so many worthy causes! – will definitely be back next year". Mike Turner (Bowers Group) "I am definitely aching this morning, but it was worth it. I really enjoyed the race, running down Ecclesall Road with all the noise and support was fantastic and it definitely made the difference when I was trying to keep going through the last couple of miles!". Lauren Saltfleet (Group HR) "This course is beyond challenging so I am extremely proud of myself and everyone who took part - AMAZING!!".
A little bit about the chosen charity:
British Heart Foundation vision is a world free from the fear of heart and circulatory diseases, with the charity raising money to research cures and treatments, to give people more time with the ones they love. Heart attacks that strike without warning, strokes that shatter futures, new-born babies born with broken hearts. These are just some of the cruelties of cardiovascular disease. And the brutal reality is, there is so much more for science to discover before we can beat the world's biggest killers. That's why the British Heart Foundation exists. Funding research is how we change the game. Team S&J Fundraising helps make a difference and goes directly towards research. Find out more: https://www.bhf.org.uk/