Team S&J to Tackle Sheffield Half Marathon 2022 in Aid of the British Heart Foundation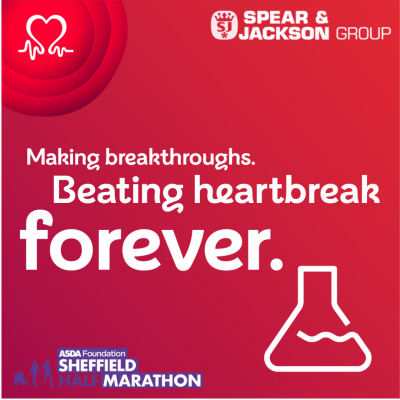 After last year's successful team effort, employees from across the Spear & Jackson group are once again preparing to take on the punishing Sheffield Half Marathon in aid of the British Heart Foundation.
Taking place on Sunday 27th March 2022, with a city centre start and finish, a huge crowd of enthusiastic supporters will cheer participants out and back for the annual race. The event boasts a stunningly scenic route with majestic views of the Peak District on the climb to Ringinglow.
The race even incorporates a 'triple test' giving entrants a chance to be crowned Peaks Challenge winners in a timed hill climb, triumph in a times 10K downhill sprint section and cross the finish line first to lift the Sheffield Half Marathon title.
This year, Team S&J will see an impressive team of 10 employees from across the group take on the half marathon, with runners from Eclipse Magnetics, Bowers Group and the Corporate Office joining in.
Head of HR for the Spear & Jackson Group, and Team S&J runner, Katie Weller, said: "Last year we managed to raise an incredible amount for The Children's Charity, and this year we're focusing our fundraising efforts on the British Heart Foundation. The BHF has the ability to change so many lives and we're looking forward to hitting the hills of Sheffield once again for such a fantastic cause."
From Eclipse Magnetics, Tim Hollingsworth, Senior Account Manager, Eric Latham, Financial Controller and Daniel Beaulieu, Filtration Sales Manager will be lacing up their trainers ready to hit the hills of Sheffield. We wish them the very best of luck with their training and the race.
Seven million people in the UK live with heart and circulatory diseases, and these diseases are responsible for more than a quarter of all deaths.
The British Herat Foundation raise money to research cures and treatments for a world free from the fear of heart and circulatory diseases, giving people more time with the ones they love. The charity fund around £100 million of research each year into all heart and circulatory diseases and the things that cause them. Heart diseases. Stroke. Vascular dementia. Diabetes. They're all connected, and they're all under the microscope.
Let's Beat Heart and Circulatory Diseases Together
But, there's still much more to do. Team S&J is running the marathon to raise money for this incredible cause to ensure this life-changing research can continue to help eradicate heart and circulatory problems.
If you'd like to sponsor our incredible team of superstars, please visit our Just Giving page, here.