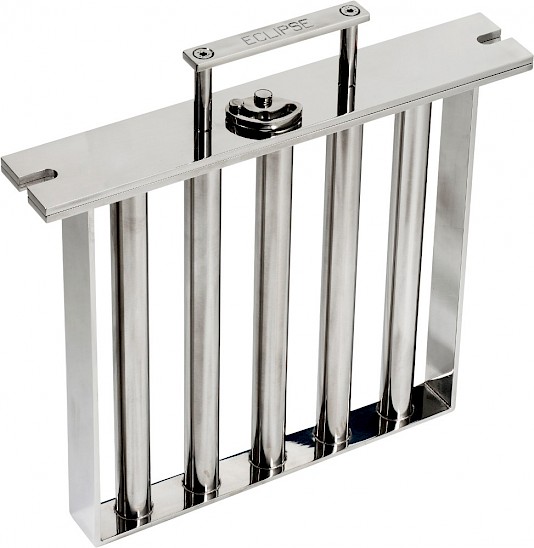 Hover to zoom
Easy Clean Magnetic Grid (Grate) Separator
Removes ferrous particles from powders and granulates
High-intensity magnetic grid extracts fine particles
Includes easy clean mechanism
Easily installed into existing chute work
Multiple sizes available
ATEX version available
Overview - Easy Clean Magnetic Grid (Grate) Separator
Easy clean solution for removing fine ferrous contamination
Our versatile, easy clean grid or grate magnets can be used in most powder and granulate applications.
The magnetic separator grid or grate can pick up all contamination down to sub-micron size. Its cleaning process is quick and easy; simply pull the magnetic cores out of the stainless steel tube and the contamination will fall away. The cleaning process can be completed in under 15 seconds, making them ideal for 24/7 operations where down time must be kept to a minimum.
Our easy clean magnetic separator grid or grate can be installed into existing chute work, or machinery where height is restricted. It can also be supplied in housings for ease of installation into existing process lines.
Applications
Suitable for dry powders, granulates and liquids
Can be installed to any vertical or slightly angled process line
Benefits
Simple to install and clean
Reduces 'spark' risk
Removes micron sized contaminants
Meets audit requirements
Ideal for 24/7 operations, reduces downtime
Performance
Magnetic performance: 7000, 9000 and 10000 gauss
Performance reading: On tube surface
Magnet grade: N35 & N45 - Inspected and confirmed via hysterograph prior to use
Temperature: -20°C / +90°C
Construction
Magnetic Material: Rare Earth Neodymium Iron Boron - (NdFeB)
Tubing: 316 grade stainless steel
Other Parts: 316 grade stainless steel
Surface Finish: Polished to 0.6μm
For multi row magnetic grids see Easy Clean Housed Grid