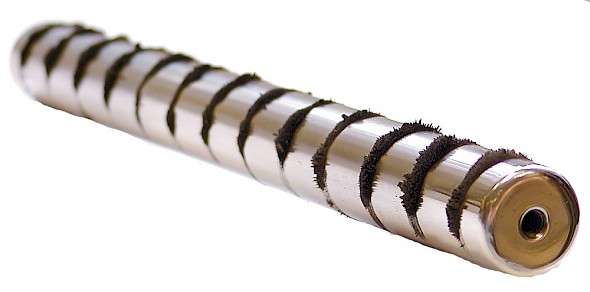 Hover to zoom
Neodymium Magnetic Rod
Remove ferrous and para-magnetic contamination from free-flowing products
Ideal for OEM machine build projects
Ideal replacements or extra protection for processing equipment
Ideal for powders, granulates and liquids
A wide range of standard lengths available
ATEX approved versions available
Overview - Neodymium Magnetic Rod
Simple to use & easy to clean magnetic rods
Our rare earth rod magnets are extremely efficient at removing fine iron contamination from free-flowing products such as sugar, grain, tea, flour, granulate and any other types of powder with a low moisture content. Magnetic rods are easy to incorporate into machinery with the minimal amount of engineering, and simple to use and install.
Magnetic Rods are particularly useful for those engineers who wish to build their own separator units or have severe space restrictions and are not able to accommodate a conventional unit. Each rods is tapped with an M6 thread at both ends as standard for ease of installation.
Depending on the configuration, rod magnets can be cleaned in seconds by simply pushing the attracted contamination to one end, which will release it and enable further analysis to be conducted.
Applications
Suitable for all powders, granulates and liquids
Can be used in any process area
Benefits
Easy to clean
Enables flexible design
Simple to use and install
Removes micron sized contaminants
Performance
Magnetic performance: 7000, 9000, 11000 and 12000 Gauss
Performance reading: On tube surface
Magnet Grade: N35 & N45 – Inspected and confirmed via hysteresigraph prior to use
Temperature: -20°C / +90°C
Construction
Magnetic Material: Rare Earth Neodymium Iron Boron - (NdFeB)
Tubing: 316 grade stainless steel
Other parts:
Surface Finish: Polished to 0.6μm
Rod End Detail: Tapped M6 x 8mm both ends
For complete magnetic grids see Magnetic Separation Grids