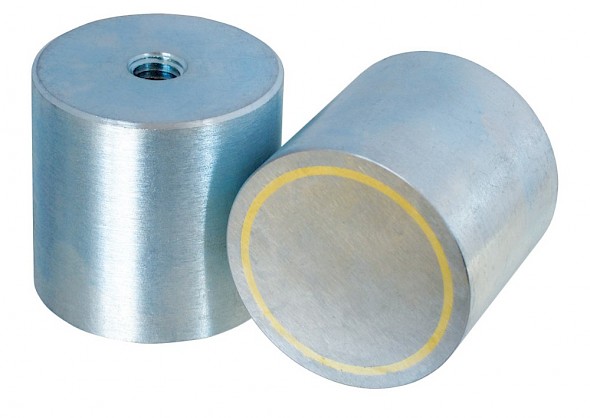 Hover to zoom
Alnico Deep Pot Magnets (With Threaded Hole)
Powerful clamping forces ideal for mounting threaded components
220° maximum operating temperature
Alnico 5 magnet material and mild steel pot
Zinc plated body
Brass spacer
Good corrosion resistance
Overview - Alnico Deep Pot Magnets (With Threaded Hole)
Internal Threaded Mounting Pot Magnet & Deep Pot Magnet
The internal threaded mounting pot magnet is also known as an internal threaded pot magnet. Deeper or taller versions of the internal threaded mounting pot magnet are sometimes also known as Deep Pot Magnets, although this is rather a loose terminology. The internal threaded mounting pot magnet is a pot magnet that has a threaded hole in the centre of the ferromagnetic mild steel cup and a solid disc magnet inserted inside the cup. The threaded section does not go all the way through the pot magnet - it is only within the mild steel cup section.
Deep Pot Magnet Perfect for Clamping Applications
The internal threaded mounting pot magnet or deep pot magnet are very popular in clamping applications because you can simply bolt them onto your assembly. The larger units provide very powerful clamping forces, with the mild steel outer cup providing protection and mechanical strength to the pot magnet and inner magnet. Because the mild steel is threaded, reasonably high torque can be applied to securely hold the pot magnet in place. Read more about Pot Magnets
Model Variations
Product Number
Diameter (mm)
Height (mm)
Thread (mm)
Weight (g)
Pull force (kg)
Units per pack
E740
6
20
M3
4
0.2
20
E741
8
20
M3
7
0.4
20
E742
10
20
M4
11
0.8
20
E743
13
20
M4
19
1
20
E744
16
20
M4
29
1.8
10
E745
20
25
M6
55
4.2
5
E746
25
35
M6
250
8
5
E747
32
40
M8
370
15
2
E748
45
44
M10
500
30
2
"We were delighted with the service provided by Eclipse Magnetics; from the initial site survey through to delivery."
"I cannot begin to tell you how much it has helped our operation, the magnetic filtration unit has been a real problem solver it has surpassed all our expectations. Its cured a 30 year plague!"
"This technology is economical, reliable and efficient. I believe that magnetic filtration technology is the future."
"Magnetic filtration has dramatically cleaned up our fluids and improved the surface finish we can offer. It extracts around 50Kg per day of ferrous waste."
"We chose Eclipse Magnetics to supply our housed grid because they are a respected and well-established brand. They offered us a very competitive price, and the process of ordering and installation was straightforward and reliable."
"We are delighted with the Automag installation; it's solved all the problems we were having previously with downtime and maintenance costs. The filter means that we are able to use recycled water, which is saving us £1000 per week!"
"Here at Qualflow, we base our business on a philosophy of make the product simple to use, reliable and cost-effective. Eclipse Magnetics' neodymium magnets offer the strongest magnetic performance, and are nickel plated, making them a cost effective.."
"The Ultralift Plus magnetic lifter from Eclipse Magnetics is the perfect solution for the pick-up and transportation of the ultrasonic calibration blocks in our facility"
"The result is an aesthetically pleasing system, which is effective in trapping metal contaminants and is easy to clean..."