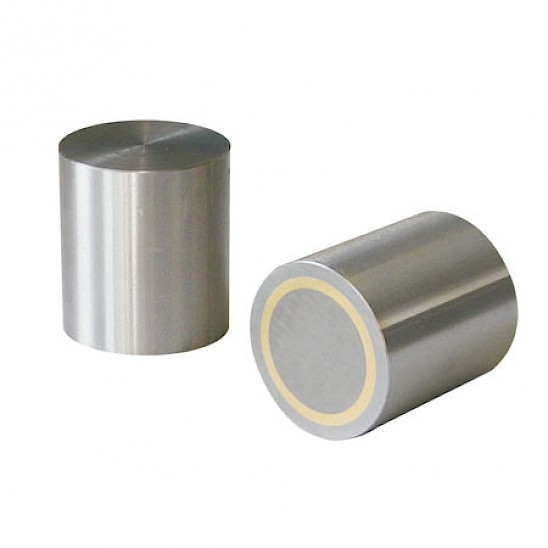 Alnico Deep Pot Magnets (Zinc Plated)
For clamping, holding, fixturing and tooling applications
Ideal for press fit applications
Precision ground outer diameter
Overview - Alnico Deep Pot Magnets (Zinc Plated)
Alnico deep pot magnets (zinc plated) – Precision Outer Diameter Versions
These Alnico deep pot magnets have a precision ground outer diameter for press fitting into precision milled holes. Like the standard alnico deep pot magnets, they are blind ended deep pot magnets. The precision ground alnico deep pot magnet comprises an Alnico 5 magnet surrounded by a brass retaining ring spacer which are both inside a zinc plated mild steel body ( "cup") that is blind ended at the rear (no thread or tapped hole at the back). The magnetic pole face is ground to a smooth finish. The outer diameter is ground to a H6 tolerance, making it ideal for press fitting within milled-out holes. Read more about Pot Magnets
Alnico Magnet with Good Corrosion Resistance
Alnico has naturally good corrosion resistance. This allows the precision ground outer diameter alnico deep pot magnet, with its zinc plated steel body, to have good corrosion resistance and allows excellent performance in many oils. The alnico deep pot magnet with precision ground OD is used at ambient temperatures and are great for high temperature use. They are recommended for use in temperatures up to +220 degrees C (+428 Fahrenheit), and can potentially be used at temperatures up to +400 degrees C (+752 Fahrenheit).
When being operated at temperatures above +200 degrees C, the materials making up the pot magnet may start to become loose due to expansion coefficients of the different materials, so it is only recommended for use with caution above +200 degrees C. Alnico has the best temperature coefficient of magnetic induction for any magnetic material so only reduces its magnetic performance slightly as the magnet heats up. This allows the alnico deep pot magnet with a precision ground outer diameter to keep performing very well as the pot magnet heats up (the Br falls the least with rising temperature when using alnico magnetic material).
Precision Ground Alnico Deep Pot Magnet for Press-Fit Applications
This type of magnet is perfect for press-fit applications, having its H6 toleranced outer diameter. The precision ground alnico deep pot magnet is used in many applications, including clamping, tooling/fixturing and general clamping. The 'deep' pot design of the alnico deep pot magnet provides stability of magnetic performance and excellent thermal capability. It is possible to produce customised versions of this magnet. For example, the mild steel casing can be chrome or nickel plated. Also, the rear of the pot magnet could have a tapped hole or a thread included – please contact us for prices and lead times (minimum order quantities may apply). For a standard range of alnico deep pot magnets (without a precision ground outer diameter), please see our alnico deep pot magnets.
Model Variations
Product Number
Diameter (mm)
Height (mm)
Weight (g)
Pull force (kg)
Units per pack
E730
6
10
4
0.2
20
E731
8
12
4
0.3
20
E732
10
16
9
0.5
20
E73
13
18
17
1.0
20
E734
16
20
29
1.5
10
E735
20
25
57
3.5
5
E736
20
25
57
3.5
5
E737
32
35
200
15.0
2
E738
40
45
420
15
2
E739
50
50
720
35.0
1
E790
6
20
4
0.2
20
E791
8
20
7
0.4
20
E792
10
20
11
0.8
20
E793
13
20
19
1.0
20
E794
16
20
29
1.8
10
E795
20
25
57
4.2
5
E796
25
35
140
8
2
"We were delighted with the service provided by Eclipse Magnetics; from the initial site survey through to delivery."
"I cannot begin to tell you how much it has helped our operation, the magnetic filtration unit has been a real problem solver it has surpassed all our expectations. Its cured a 30 year plague!"
"This technology is economical, reliable and efficient. I believe that magnetic filtration technology is the future."
"Magnetic filtration has dramatically cleaned up our fluids and improved the surface finish we can offer. It extracts around 50Kg per day of ferrous waste."
"We chose Eclipse Magnetics to supply our housed grid because they are a respected and well-established brand. They offered us a very competitive price, and the process of ordering and installation was straightforward and reliable."
"We are delighted with the Automag installation; it's solved all the problems we were having previously with downtime and maintenance costs. The filter means that we are able to use recycled water, which is saving us £1000 per week!"
"Here at Qualflow, we base our business on a philosophy of make the product simple to use, reliable and cost-effective. Eclipse Magnetics' neodymium magnets offer the strongest magnetic performance, and are nickel plated, making them a cost effective.."
"The Ultralift Plus magnetic lifter from Eclipse Magnetics is the perfect solution for the pick-up and transportation of the ultrasonic calibration blocks in our facility"
"The result is an aesthetically pleasing system, which is effective in trapping metal contaminants and is easy to clean..."