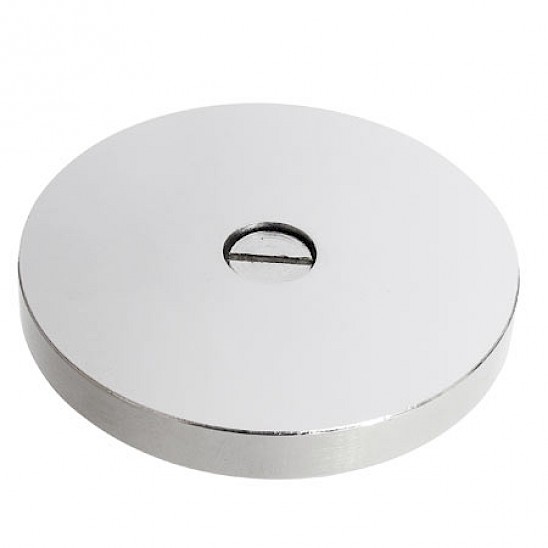 Armature Plates for Electromagnets
To fit both hold and release electromagnets
Optimise Electromagnet clamping performance
Available to suit energise to hold or energise to release electromagnets
Ideal for clamping and access control applications
Overview - Armature Plates for Electromagnets
Armature Ferromagnetic Plates for Electromagnets
Our armature plates allow our electromagnets to perform at their best - optimum holding forces, high magnetic permeability, low remanence.
The armature plates are quality ferromagnetic plates with fixing holes that are sized to suit both the energise to hold electromagnet and the energise to release electromagnet. They can be used as keeper plates in use to get the best clamping performance from the electromagnets and electro-permanent magnets and are often used when either no ferromagnetic material exists for the electromagnets to clamp onto or where the existing ferromagnetic surface is not ideal for best clamping (e.g. thin sheet, rusty steel, curved surfaces).
More Information on Armature Ferromagnetic Plates for Electromagnets
The Armature Plate is a high quality ferromagnetic plate to allow magnets, electromagnets, electro-permanent magnets and solenoids to clamp onto it. The armature plate has been designed specially to fit both our ranges of energise to hold electromagnets and energise to release electro-permanent magnets. The armature plate may also be known as a keeper plate. An electromagnet or electro-permanent magnet always needs a ferromagnetic surface to clamp onto – the ferromagnetic surface required is generally a mild steel or ferromagnetic stainless steel.
The quality of the ferromagnetic material can affect the performance of the electromagnet or electro-permanent magnet. Thinner materials tend to struggle to carry the magnetism, magnetically saturating and failing to achieve the maximum possible holding forces of the magnets. Corroded materials and materials with poor magnetic permeability also result in reduced performance form the magnets. Surfaces that are not smooth (curved, rippled, indented) and surfaces that have coatings to create effective air gaps also cause reductions in the pull forces possible.
DOWNLOAD ELECTROMAGNETS BROCHURE
The Use of a Dedicated Armature Plate
As such being able to use a dedicated armature plate will allow our electromagnets and electro-permanent magnets to achieve optimal pull forces. The armature plates allow our energise to hold electromagnets and energise to release electro-permanent magnets to perform at their maximum possible holding forces by combining high magnetic permeability, low remanence, minimised air gap and optimum magnetic pathways. The armature plates come in diameters varying from 25mm to 100mm to match the diameters of the electromagnets and electro-permanent magnets we supply.
Larger diameter electromagnets produce more magnetism requiring thicker armature plates to get the best performance, which is why our electromagnets are thicker as their diameter increases. The thickness (height) varies from 3mm for the D25mm version up to 12mm for the D10mm version. Each armature plate has a counterbore hole to allow a simple fixing means.
The counterbore holes are designed to fit M3 up to M10 counterbore screws (depending on the size of armature plate). Each armature plate is also supplied with a counterbore screw for fixing with a flush fitment finish. Our armature plates could also be used with other magnets and magnetic products where a ferrous surface for magnetic clamping is not available (but note that our armature plates are designed for best use with our energise to hold electromagnets and energise to release electropermanent magnets.
Model Variations
Product Number
Dia. d
Height (mm)
Weight (g)
Dia. (in)
Height (in)
Weight (lb)
M52171/25ARM
25
3
15
0.984
0.118
0.03
M52171/30ARM
30
4
30
1.181
0.157
0.07
M52171/40ARM
40
5
50
1.575
0.197
0.11
M52171/50ARM
50
6
100
1.969
0.236
0.22
M52171/65ARM
65
8
210
2.559
0.315
0.46
M52171/80ARM
80
10
400
3.15
0.394
0.88
"We were delighted with the service provided by Eclipse Magnetics; from the initial site survey through to delivery."
"I cannot begin to tell you how much it has helped our operation, the magnetic filtration unit has been a real problem solver it has surpassed all our expectations. Its cured a 30 year plague!"
"This technology is economical, reliable and efficient. I believe that magnetic filtration technology is the future."
"Magnetic filtration has dramatically cleaned up our fluids and improved the surface finish we can offer. It extracts around 50Kg per day of ferrous waste."
"We chose Eclipse Magnetics to supply our housed grid because they are a respected and well-established brand. They offered us a very competitive price, and the process of ordering and installation was straightforward and reliable."
"We are delighted with the Automag installation; it's solved all the problems we were having previously with downtime and maintenance costs. The filter means that we are able to use recycled water, which is saving us £1000 per week!"
"Here at Qualflow, we base our business on a philosophy of make the product simple to use, reliable and cost-effective. Eclipse Magnetics' neodymium magnets offer the strongest magnetic performance, and are nickel plated, making them a cost effective.."
"The Ultralift Plus magnetic lifter from Eclipse Magnetics is the perfect solution for the pick-up and transportation of the ultrasonic calibration blocks in our facility"
"The result is an aesthetically pleasing system, which is effective in trapping metal contaminants and is easy to clean..."