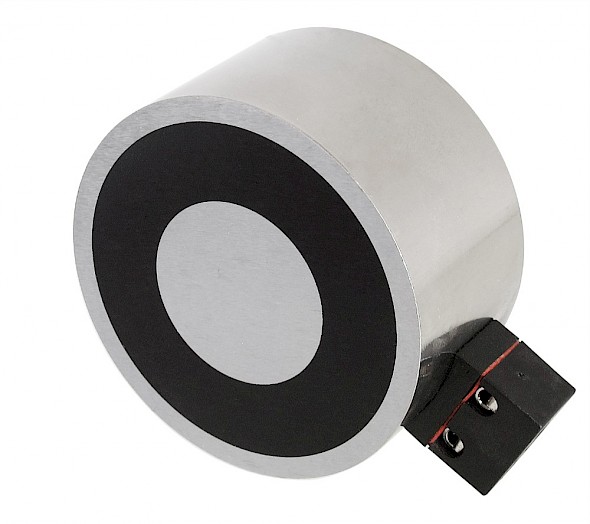 Hover to zoom
Energise-to-Hold Electromagnet
When activated, the electromagnet acts as a clamping, locking, or holding device
Ideal for access control, security or automation projects
High quality manufacture
Available as 12VDC, 24VDC or 240VAC versions
Strongest magnetic performance
Easy to apply, ideal for holding heavier items
Bright nickel plated with machined face
80°C max operating temperature
Overview - Energise-to-Hold Electromagnet
Standard Electromagnets (Energise-to-Hold Electromagnets/Electro-holding magnets)
Energise-to-Hold Electromagnets are standard electromagnets. It has a solenoid (copper wound coil), mounted within a high quality, highly permeabilised iron assembly to provide high clamping forces and low magnetic losses. The electromagnet energising unit is constructed with an iron cylinder with a nickel finish passivated with a body mount. A number of keeper plates (armature plates) are available to suit the holding of an electromagnet unit. The electromagnet's rear face has a central and three equi-spaced tapped holes (on a PCD).
ElectroMagnet with 3 Styles of Electrical Connection
Depending on the size, the Energise-to-Hold Electromagnet has three styles of electrical connection: free leads, two-pole connector and Hirschman connectors.
The Energise-to-Hold Electromagnet has, depending on the size, three supply voltages:- 12V dc, 24V dc and 240V ac. The electromagnet has an ED rating of 100% and an IP rating of 54 (20 for the two-pole connector version). They also have maximum possible pull force ratings from 113N up to 3500N (11kg to 350kg) depending on the size of unit (the actual pull achieved will depend on the application). High-quality permeable iron for low remanence.
Electrical current is required to turn the magnet ON. Power is removed to turn the magnet OFF. Pull force conversion (approximate): 1kg = 10N = 2.2lb. The outer shell of the electromagnet is a sturdy bright nickel plated cylinder, passivated with body mounting. Designed for surviving demanding holding and clamping applications.
Typical applications of the electromagnets include: door locking mechanisms for access control or security, fire door holding, medical devices , feeder systems for automated packaging machinery, pick and place equipment and power generation. Find out more about Electromagnets & Electromagnetism.
Advantages of Energise-to-Hold Electromagnets
The clamps only work when there is an electric current

Changing the current can result in varying clamping force

A high magnetic clamping forces possible

An easy-to-use on/off switch operation
Learn the differences between Electromagnets & Permanent Magnets with our free guide here
"We were delighted with the service provided by Eclipse Magnetics; from the initial site survey through to delivery."
"I cannot begin to tell you how much it has helped our operation, the magnetic filtration unit has been a real problem solver it has surpassed all our expectations. Its cured a 30 year plague!"
"This technology is economical, reliable and efficient. I believe that magnetic filtration technology is the future."
"Magnetic filtration has dramatically cleaned up our fluids and improved the surface finish we can offer. It extracts around 50Kg per day of ferrous waste."
"We chose Eclipse Magnetics to supply our housed grid because they are a respected and well-established brand. They offered us a very competitive price, and the process of ordering and installation was straightforward and reliable."
"We are delighted with the Automag installation; it's solved all the problems we were having previously with downtime and maintenance costs. The filter means that we are able to use recycled water, which is saving us £1000 per week!"
"Here at Qualflow, we base our business on a philosophy of make the product simple to use, reliable and cost-effective. Eclipse Magnetics' neodymium magnets offer the strongest magnetic performance, and are nickel plated, making them a cost effective.."
"The Ultralift Plus magnetic lifter from Eclipse Magnetics is the perfect solution for the pick-up and transportation of the ultrasonic calibration blocks in our facility"
"The result is an aesthetically pleasing system, which is effective in trapping metal contaminants and is easy to clean..."