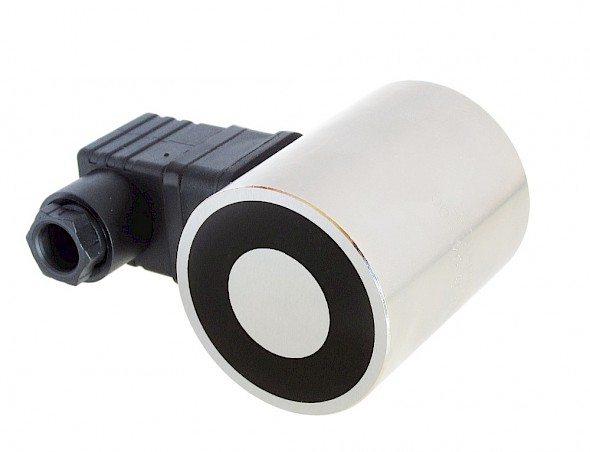 Hover to zoom
Energise-to-Release Electromagnet
When activated provides a release action
Ideal for access control, security or automation projects
High quality manufacture
Available as 24VDC or 240VAC versions
Strongest magnetic performance
Easy to apply, ideal for holding heavier items
Bright nickel plated with machined face
80°C max operating temperature
Overview - Energise-to-Release Electromagnet
Electro-Permanent Magnet (Energise-to-Release Electromagnet)
The Energise-to-Release Electromagnet is an electro-permanent concept - a solenoid (wound copper coil) within a high quality high permeability iron assembly for high clamping forces and low magnetic losses plus a magnet build into the assembly. The iron cylinder of the Energise-to-Release Electromagnet is of sturdy design with a bright nickel finish passivated with body mounting. An electropermanent magnet is a specialised magnetic assembly that combines a permanent magnet and an electromagnet.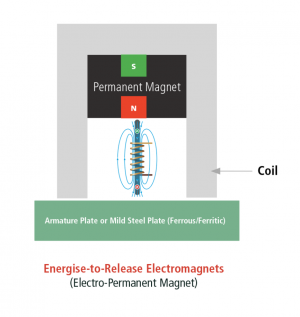 Armature plates (keeper plates) exist to suit each energise to release electromagnet unit. It has one central tapped hole on the rear face. Depending on the size, the energise to release electromagnet has two styles of electrical connection: Hirschman connectors and Hirschman style connectors.
The Energise-to-Release Electromagnet has, depending on the size, two supply voltages:- 24V dc and 240V ac. It also has a Duty Cycle of S2. The electromagnet has an IP rating of 54. They also have maximum possible pull force ratings from 285N up to 471N (28kg to 47kg) depending on the size of unit (the actual pull achieved will depend on the application).
Electrical power in the solenoid is required to the turn the magnet OFF. Power is removed to restore the magnet to ON. Pull force conversion (approximate):- 1kg = 10N = 2.2lb. The outer shell of this energise to release electromagnet is a sturdy bright nickel plated cylinder, passivated with body mounting. They are designed for demanding clamping and release applications. Typical applications include; door locking mechanisms for access control or security, fire door holding, medical devices , feeder systems for automated packaging machinery, pick and place equipment and power generation.
Find out more about Electromagnets & Electromagnetism.
Advantages of Energise-to-Release Electromagnets
If no current is present, the unit will clamp to a ferrous surface using the internal magnet

Energy efficient – unit releases the hold only when you apply an electric current

Secure hold – does not need a current to clamp

Can clamp to any ferrous surface (maximum pull achieved with recommended armature plates)
Check out our free guide here to compare between Electromagnets and Permanent Magnets
Model Variations
Product Number
Connector
Current (ma)
Diameter
Height
Weight (g)
Fixing Point
M52177/240VA
Hirschman
50
35
81
354
M5
M52178/240VA
Hirschman
40
50
97
880
M5
M52177/24VDC
Hirschman style
50
35
78
352
M5
M52178/24VDC
Hirschman Style
40
50
874
94
M5
"We were delighted with the service provided by Eclipse Magnetics; from the initial site survey through to delivery."
"I cannot begin to tell you how much it has helped our operation, the magnetic filtration unit has been a real problem solver it has surpassed all our expectations. Its cured a 30 year plague!"
"This technology is economical, reliable and efficient. I believe that magnetic filtration technology is the future."
"Magnetic filtration has dramatically cleaned up our fluids and improved the surface finish we can offer. It extracts around 50Kg per day of ferrous waste."
"We chose Eclipse Magnetics to supply our housed grid because they are a respected and well-established brand. They offered us a very competitive price, and the process of ordering and installation was straightforward and reliable."
"We are delighted with the Automag installation; it's solved all the problems we were having previously with downtime and maintenance costs. The filter means that we are able to use recycled water, which is saving us £1000 per week!"
"Here at Qualflow, we base our business on a philosophy of make the product simple to use, reliable and cost-effective. Eclipse Magnetics' neodymium magnets offer the strongest magnetic performance, and are nickel plated, making them a cost effective.."
"The Ultralift Plus magnetic lifter from Eclipse Magnetics is the perfect solution for the pick-up and transportation of the ultrasonic calibration blocks in our facility"
"The result is an aesthetically pleasing system, which is effective in trapping metal contaminants and is easy to clean..."