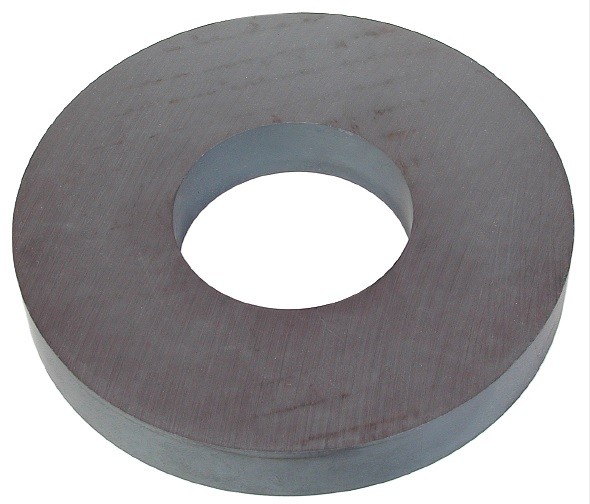 Ferrite (Ceramic) Ring Magnet
Magnetic ring for clamping and holding applications
250° maximum operating temperature
Excellent resistance to corrosion
High resistance to demagnetisation
Overview - Ferrite (Ceramic) Ring Magnet
A Ferrite (Ceramic) ring magnet is a ferrite disc magnet with a concentric hole inside it. A Ferrite (Ceramic) countersunk magnet is a ferrite ring magnet with one side appearing as a standard ring but the other side is seen as an angled countersink which allow a screw head to fit inside, the angle usually being (but not always) 90 degrees.
A Ferrite counterbore ring magnet is a ring magnet with a cylindrical flat-bottomed hole on one side that enlarges the main central hole to take a cap head screw inside the magnet. Ferrite ring magnets are also known as ferrite pure rings, ferrite countersunk magnets, and ferrite counterbore magnets.
All the Ferrite ring magnets are nearly always axially magnetised - the ferrite magnet is magnetised along its central axis. Unless stated otherwise the ferrite ring magnets, ferrite countersunk ring magnets and ferrite counterbore ring magnets are all axially magnetised. Axially magnetised magnets have one flat end circular face as a North and the other flat circular end face as a South. For pure ferrite rings, polarity is changed by simply turning the magnet over. For the countersunk and counterbore ferrite ring magnets, North versions have a North at the countersunk / counterbore side (with a South at the other end - which appears like a normal ring); South versions have a South at the countersunk / counterbore side (with a North at the other end - which appears like a normal ring).
In applications where the ferrite ring magnets are clamping onto ferromagnetic surfaces (e.g. mild steel), any version could be used - sometime placing in a N-S-N-S arrangement may give a small increase in performance as the magnets link their magnetism in a positive way. In applications where magnets are attracting magnets, just ensure that a North face of one magnet is attracting a South face of another magnet (unlike poles attract; like poles repel). When screwing ring magnets in place please do not over tighten the screws otherwise it may cause the Ferrite ring magnet to break. Ferrite (Ceramic) magnets are brittle (like all magnets) and are not designed for load bearing (e.g. high clamping forces) We produce custom magnets.
Model Variations
Product Number
Height (mm)
Material
Height (in)
N209
6.35
Ceramic 5
0.25
M15009B
10
Y30H-1 Ferrite
0.394
M15131B
8
Y30 Ferrite
0.315
M15224B
8
Y30 Ferrite
0.315
M15574B
10
Y35 Ferrite
0.394
M15575B
12
Y30 Ferrite
0.472
N210
10.9
Ceramic 5
0.43
N211
6.35
Ceramic 5
0.25
N213
6.35
Ceramic 5
0.25
N214
19.1
Ceramic 5
0.75
N212
12.7
Ceramic 5
0.5
"We were delighted with the service provided by Eclipse Magnetics; from the initial site survey through to delivery."
"I cannot begin to tell you how much it has helped our operation, the magnetic filtration unit has been a real problem solver it has surpassed all our expectations. Its cured a 30 year plague!"
"This technology is economical, reliable and efficient. I believe that magnetic filtration technology is the future."
"Magnetic filtration has dramatically cleaned up our fluids and improved the surface finish we can offer. It extracts around 50Kg per day of ferrous waste."
"We chose Eclipse Magnetics to supply our housed grid because they are a respected and well-established brand. They offered us a very competitive price, and the process of ordering and installation was straightforward and reliable."
"We are delighted with the Automag installation; it's solved all the problems we were having previously with downtime and maintenance costs. The filter means that we are able to use recycled water, which is saving us £1000 per week!"
"Here at Qualflow, we base our business on a philosophy of make the product simple to use, reliable and cost-effective. Eclipse Magnetics' neodymium magnets offer the strongest magnetic performance, and are nickel plated, making them a cost effective.."
"The Ultralift Plus magnetic lifter from Eclipse Magnetics is the perfect solution for the pick-up and transportation of the ultrasonic calibration blocks in our facility"
"The result is an aesthetically pleasing system, which is effective in trapping metal contaminants and is easy to clean..."