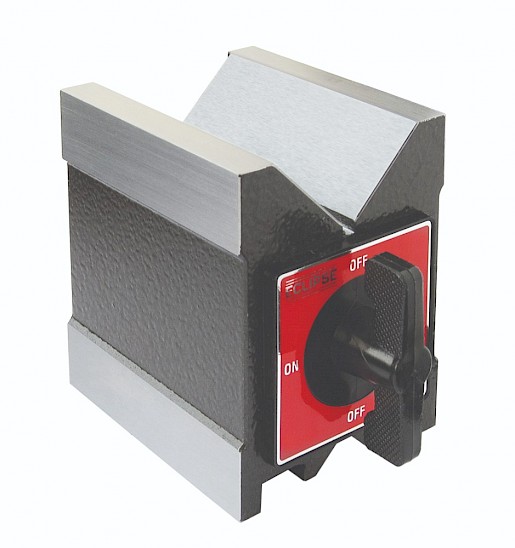 Hover to zoom
Magnetic V Blocks
Securely hold workpieces for grinding, marking or spark erosion
Easy to engage and release the workpiece
Instant, accurate clamping
Can be used on its base, side or end
Overview - Magnetic V Blocks
Ideal for holding cylindrical and other complex workpieces for marking, spark erosion, grinding and measurement. The 'v' and the base are both magnetic. Both are energised / de-energised at the same time by the toggle switch. Securing the base to any flat ferrous surface and securing the workpiece to the holding area.
See our range of Workholding Systems
Model Variations
Product Number
Width (mm)
Length (mm)
Height (mm)
Max dia. of workpiece top 'v' (mm)
Max dia. of workpiece bottom 'v' (mm)
Weight (kg)
25 Micron Accuracy
E934
70
101.6
95
65
22
1.98
E934MP
70
101.6
95
65
22
3.96
E935
70
80
95
65
22
3.12
E935MP
70
80
95
65
22
6.24
10 Micron Accuracy
E933A
70
120
95
65
22
4.4
E933MPA
70
120
95
65
22
8.8
E935A
70
80
95
65
22
2.95
E935MPA
70
80
95
65
22
5.9
"We were delighted with the service provided by Eclipse Magnetics; from the initial site survey through to delivery."
"I cannot begin to tell you how much it has helped our operation, the magnetic filtration unit has been a real problem solver it has surpassed all our expectations. Its cured a 30 year plague!"
"This technology is economical, reliable and efficient. I believe that magnetic filtration technology is the future."
"Magnetic filtration has dramatically cleaned up our fluids and improved the surface finish we can offer. It extracts around 50Kg per day of ferrous waste."
"We chose Eclipse Magnetics to supply our housed grid because they are a respected and well-established brand. They offered us a very competitive price, and the process of ordering and installation was straightforward and reliable."
"We are delighted with the Automag installation; it's solved all the problems we were having previously with downtime and maintenance costs. The filter means that we are able to use recycled water, which is saving us £1000 per week!"
"Here at Qualflow, we base our business on a philosophy of make the product simple to use, reliable and cost-effective. Eclipse Magnetics' neodymium magnets offer the strongest magnetic performance, and are nickel plated, making them a cost effective.."
"The Ultralift Plus magnetic lifter from Eclipse Magnetics is the perfect solution for the pick-up and transportation of the ultrasonic calibration blocks in our facility"
"The result is an aesthetically pleasing system, which is effective in trapping metal contaminants and is easy to clean..."