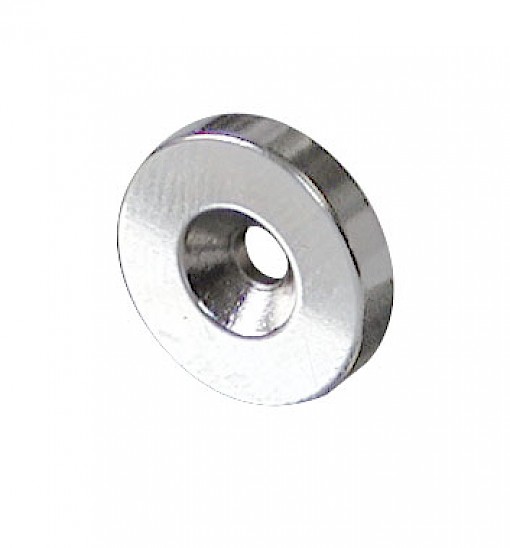 Neodymium NdFeb Ring Magnets
Strong magnet ideal for screw mounting for holding and attaching purposes
High strength magnetic performance
With countersunk hole for screw mounting
Nickel plated, corrosion resistant
N35 grade material
80°C max operating temperature
Overview - Neodymium NdFeb Ring Magnets
Neodymium (rare earth) NdFeB ring magnets / NdFeB countersunk ring magnets / NdFeB counterbore ring magnets
A ring magnet or NdFeB Rare Earth ring magnet is a NdFeB disc magnet with a concentric hole inside it. A countersunk magnet is a Neodymium ring magnet with one side appearing as a standard ring but the other side has an angled countersink to take a screw head, the angle usually being (but not always) 90 degrees. It has a cylindrical flat-bottomed hole on one side that enlarges the main central hole to take a cap head screw.
Alternative Names for Neodymium Ring Magnets
Neodymium ring magnets are also known as Neodymium pure ring magnets or Neodymium countersunk magnets, and Neodymium counterbore ring magnets. These variations are nearly always axially magnetised - the magnet is magnetised along its central axis. So one flat end face is a North pole and the other flat end face is a South pole.
For pure rings, turning over the ring changes the polarity. But for the NdFeB countersunk rings and the NdFeB counterbore rings the countersunk or counterbore side will be a North or a South and the other end (which will visually look like a pure ring) will have the opposite polarity). In some applications where a NdFeB counterbore ring is attracting another NdFeB counterbore ring or a NdFeB countersunk ring is attracting another NdFeB countersunk ring you will probably require a set of Norths and a set of Souths to achieve unlike poles attracting. We also offer Ferrite ring magnets.
If the magnets are attracting onto a ferromagnetic surface only, the any type of ring magnet (regardless of axial polarity direction) will be fine to consider using (combinations of Norths and Souths together will be fine - sometimes a N-S-N-S alternating pattern may give a small boost in performance if the magnets are close enough). When we term a ring magnet North, the countersunk face or counterbore face will be the North pole face (the other end will be the South pole face). When we state a ring magnet is a South, the countersunk face or counterbore face will be the South pole face (the other end will be the North pole face).
Model Variations
Product Number
Diameter (mm)
Thickness* (mm)
Hole size
Screw head size
Weight (g)
Pull force (kg)
Units per pack
N832
15.4
3.25
3.3
M3
4.40
3.5
5
N834
17.50
4
4.50
M4
6.90
4.80
5
N833
19
7.60
4.50
M4
15.50
8.10
5
N822
20
10
6 CSK
M6
21.40
4.7
1
N823
37
3.5
6 CSK
M6
27.5
4.9
1
"We were delighted with the service provided by Eclipse Magnetics; from the initial site survey through to delivery."
"I cannot begin to tell you how much it has helped our operation, the magnetic filtration unit has been a real problem solver it has surpassed all our expectations. Its cured a 30 year plague!"
"This technology is economical, reliable and efficient. I believe that magnetic filtration technology is the future."
"Magnetic filtration has dramatically cleaned up our fluids and improved the surface finish we can offer. It extracts around 50Kg per day of ferrous waste."
"We chose Eclipse Magnetics to supply our housed grid because they are a respected and well-established brand. They offered us a very competitive price, and the process of ordering and installation was straightforward and reliable."
"We are delighted with the Automag installation; it's solved all the problems we were having previously with downtime and maintenance costs. The filter means that we are able to use recycled water, which is saving us £1000 per week!"
"Here at Qualflow, we base our business on a philosophy of make the product simple to use, reliable and cost-effective. Eclipse Magnetics' neodymium magnets offer the strongest magnetic performance, and are nickel plated, making them a cost effective.."
"The Ultralift Plus magnetic lifter from Eclipse Magnetics is the perfect solution for the pick-up and transportation of the ultrasonic calibration blocks in our facility"
"The result is an aesthetically pleasing system, which is effective in trapping metal contaminants and is easy to clean..."